Times Internet's BoxTV goes public; claims to have 100K users on board

Times Internet's online video service BoxTV  has gone live for public access. Launched officially in September last year, BoxTv was on an invite-only basis till now.
BoxTV is a service that would allow users to watch a range of content from movies to TV shows to short films. It also offers a large selection of regional content in Tamil, Telugu, Kannada, Marathi, Gujarati, Malayalam, Bhojpuri and Bengali. Revenue-wise it works on a freemium model. Part of the content would be on ad-supported free-to-user basis and rest will be available for monthly subscription. Indian subscriptions start at Rs 199 per month, while users in US and UK would need to shell out $4.99 and £4.99 per month, respectively. It claims to have around 17,000 hours of content of movies and 5,000 hours of TV shows.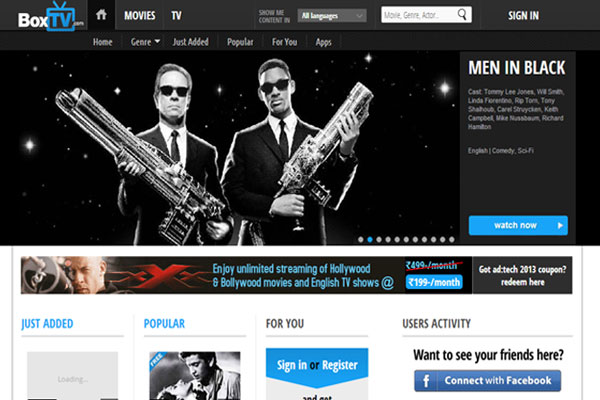 BoxTV has also announced partnerships with UTV Motion Pictures, Shemaroo Entertainment, Rajshri Entertainment and Everymedia Technologies for Bollywood and regional content in addition to their agreements with major international studios including Sony Pictures Television, Disney UTV and Celestial Entertainment for Hollywood content.
BoxTV is available on various platforms like iPhone, iPad, Android phones and tablets Kindle Fire, EvoTV, Woxi Pod and Roku. Apps for Windows 8, J2ME and Blackberry platforms are currently in the pipeline, stated an official release.
Last we checked  in September 2012, BoxTV had received 50,000 requests for joining. The number has now gone up to 100,000, who are all now registered users of BoxTV.

(Edited by Prem Udayabhanu)
---