MoAppz seeks to make all and sundry an app developer; opens up beta sign ups

Ever wondered what it is like to develop a mobile app on your own, but never had the tools or knowledge for it? Well, there is a startup that lets you do just that. MoAppz Technologies Pvt Ltd, a mobile app development startup, offers a do-it-yourself platform that allows anyone (no coding or technical knowledge needed) to design, build and publish applications for the iOS (iPhone, iPad and iPod), Android and Blackberry 10 platforms.
"The concept behind MoAppz was to make quality, fast, efficient and affordable mobile application development platform for everyone, whether they have coding and technical know-how or not. The reason why we chose mobile as a category is because firstly it is the fastest moving industry. Then mobiles are inexpensive, always on and always with the users," said Gaurav Sahdev, founder and CEO, MoAppz.
He also shared some data on the global mobile apps market, claiming it will be $25 billion by 2015, and by 2016, approximately 300 billion apps will be downloaded annually, with India becoming one of the key markets for mobile apps.
The Delhi-based company was founded by Sahdev in November last year. He has earlier worked at companies like Planet Recordz Inc and Super Cassettes Industries Limited (SCIL).  He has also earlier co-founded Supastarz Productions, a music production and management company. Sahdev holds a postgraduate diploma in management and marketing from Symbiosis Institute of Management Studies, Pune.
The startup offers a do it yourself (DIY) platform for creating, submitting and managing mobile apps. Moreover, it has a 'MoAppz Visualizer' with which customers who are building an app through the company's content management system (CMS) need only to login to view what their app looks like. They can also test out all of the apps features (like scrolling through photos, viewing push notifications, commenting on the Fanwall, etc.) to experience the app before its final release.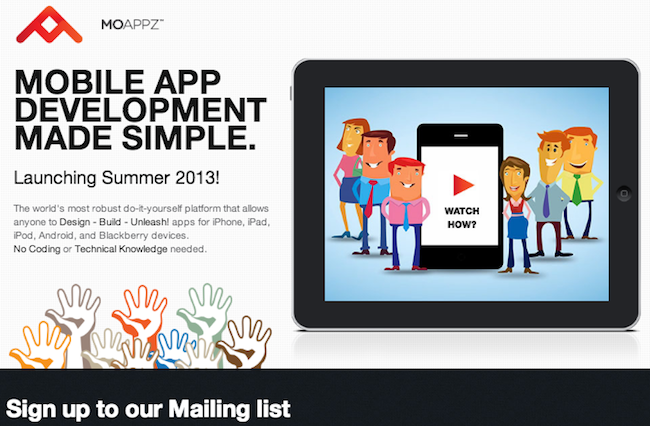 Additionally, MoAppz also provides media and entertainment companies, sports organisations and brands the ability to engage and monetise customers effectively. Some of the its core features include geo-targeted push notifications, customisable design, premium badges, photo-cards, pop promos, share content via Quick Response (QR) codes, deep social integration, and native product views, among others. The company will be officially launching its platform in July, but it opened beta sign-ups early last month. Sahdev claims that the startup has already received over 5,000 signups. The MoAppz Visualizer will be available on Apple' app store and the Google Play store at the time of the official launch.
Competition, funding & challenges
A number of players offer mobile app development platforms that include companies like Appypie and AppClay. In terms of challenges, the ones faced by the company are all technical in nature, like ensuring cross platform compatibility, varying hardware complexities and selection of features as per different screen sizes.
The startup is bootstrapped as of now, but it is actively looking to raise over Rs 1 crore. The current team size is six, which includes the founder and five freelancers. Post funding, the company will setup a permanent office in Delhi (its current office is a make-shift one), and will hire a team of 10 full-time employees. Since the platform can be used by anyone globally, the company will also look at global expansion.
"As of now, the focus is on launching the platform as soon as possible. Once that is done we will look at generating revenues, which will happen through offering our platform as a subscription-based service," said Sahdev.
(Edited by Prem Udayabhanu)
Comment(s)