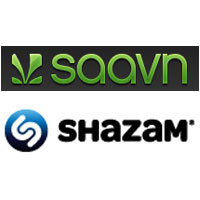 Saavn (South Asian Audio Video Network), a US-based Indian digital music service, has inked an exclusive partnership with London-headquartered Shazam Entertainment Ltd, a global media engagement company offering music/media apps and enabling users to discover, explore, buy and share music, TV shows and more. As per the partnership, Saavn's library has been mapped to Shazam's music database and users will be able to search, share and tag Saavn's catalogue via Shazam's mobile apps.
"We are excited about the partnership with Saavn, as it represents the largest partnership we've done in this region and the company will help us provide our music fans with an amazing discovery experience," said Will Mills, Shazam's director of music & content.
The partnership will enable Saavn to leverage the global platform of Shazam, as well as other value-added services. Most importantly, now global users will be able to buy music from Saavn even via the iTunes Store or share it on social networking sites via Shazam.
"With Shazam's in-app features that encourage users to buy or stream the music they hear, we feel this collaboration is well-aligned with Saavn's mission to disrupt massive music piracy in India and recapture revenues for our record label partners and their artists," Saavn CEO Vinodh Bhat said.
Founded as BODVOD Networks in 2006, the company was set up by Vinodh Bhat, Neal Shenoy and Paramdeep Singh, in a partnership among New York-based parent company 212Media (also founded by the trio), the Indian company Hungama and Schramm Sports & Entertainment. It launched the music service on the social networking site Facebook back in December 2011.
After claiming nine million active users and one million daily streams in March last year, Saavn has recently launched its premium version called Saavn Pro. This feature enables users to take their music catalogue offline and is ad-free.
Founded in 2002, Shazam claims to be adding 2 million users each week with a gross user base of around 300 million. It boasts a database of 27 million-plus tracks and includes social sharing features besides streaming lyrics in real time via LyricPlay.
This tie-up comes just a day after YouTube has enabled its click-to-buy feature on Flyte, the digital music store of the Indian e-commerce giant Flipkart.
Till now, none of the music apps, Saavn, Gaana or Dhingana, was offering download or purchase of the music streamed. However, the Saavn-Shazam partnership throws open yet another way of revenue generation. The only other app in the market that allows purchase of music is Hungama Digital's music app, which offers this feature via operator billing.
Will Indian consumers take the leap, considering the convenience of 'free music' (read pirated) so readily available on the internet?
(Edited by Sanghamitra Mandal)
---