Hyderabad-based DocSuggest Healthcare Services Pvt. Ltd, which allows patients to book appointments with hospitals and doctors directly through web or phone, has raised an undisclosed amount in funding from Google India MD Rajan Anandan and Mumbai Angels member Taher Khorakiwala, a top executive of the company told  Techcircle.
Anandan and Khorakiwala joined the round along with Indiagames founder Vishal Gondal and Sanjay Parthasarathy, founder and CEO of data analytics firm Indix, according to its co-founder and CEO Shantanu Jha. Gondal and Parthasarathy had invested in DocSuggest a couple of years ago.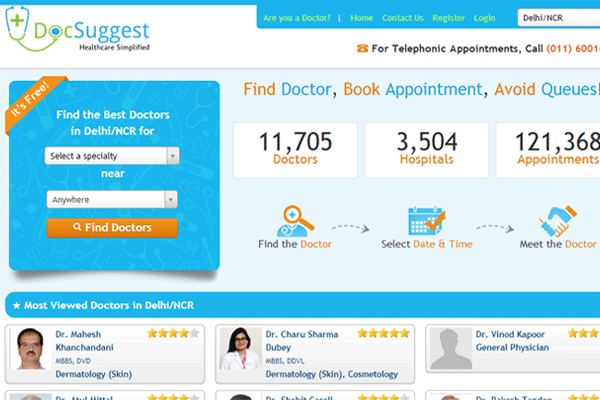 Founded in 2009 by four entrepreneurs including Jha, the company will use a major chunk of the money to expand operations to multiple cities. "Currently we are present in four cities - Mumbai, NCR, Bangalore and Hyderabad. We are planning to expand to Pune, Ahmedabad, Chennai, etc. A part of the fund will go towards acquiring more customers and to make the platform more efficient," noted Jha.
According to Jha, it is more than a typical angel round of funding. "It is a pre-Series A round. The amount will run into a few crores of rupees."
DocSuggest claims that it has a network of more than 11,500 doctors and 3,500 hospitals. "We charge doctors based on the number of appointments as well as depending on their specialisation and the city. Doctors can register online. We also have our sales team to enrol doctors. The service is completely free for patients," he said.
Jha said that his company is different from Practo.com, which is depending on doctors to make money. "DocSuggest is a patient-driven company," he said.
(Edited by Prem Udayabhanu)
---