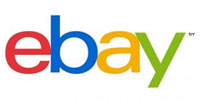 EBay Inc on Wednesday gave a disappointing earnings forecast for the second quarter and said Europe was weak, pushing its shares lower in after-hours trade.
The e-commerce company forecast a second-quarter profit of 61 to 63 cents per share and revenue of $3.8 billion to $3.9 billion.
Analysts were looking for 66 cents a share on revenue of $3.95 billion, according to Thomson Reuters I/B/E/S.
Late last month, eBay set aggressive three-year growth targets, based on international expansion plans and more focus on mobile commerce.
The company is investing heavily in these initiatives and such spending may be behind the weaker second-quarter profit forecast, said R.J. Hottovy, an equity analyst at Morningstar.
"These investments are building for the future so that should be taken positively, even if they come at the expense of short-term profits," Hottovy added, while noting that eBay's full-year 2013 forecasts remained unchanged.
EBay Chief Financial Officer Bob Swan said the company expects Europe's economy to be weaker this year, compared with its expectations in January.
UK traffic to eBay websites has been slower and weakness in the British pound will dent PayPal's revenue and take rate this year, Swan also said, during a conference call with analysts.
Still, the CFO also said eBay expects the second half of 2013 to improve as investments the company is making now in international expansion, mobile technology and other initiatives start to pay off.
EBay shares fell 2.9 per cent to $54.45 in after-hours trading on Wednesday.
The company also reported earnings of $829 million, or 63 cents per share, for the first quarter, compared with $725 million, or 55 cents a share, in the same period last year. Revenue was $3.75 billion, up from $3.28 billion a year earlier.
EBay was expected to earn 62 cents a share in the first quarter on revenue of $3.76 billion, according to Thomson Reuters I/B/E/S.
---