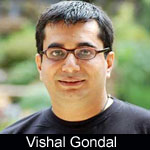 Vishal Gondal, managing director of the digital arm of Disney UTV, has put in his papers. Gondal, who is the founder and CEO of Indiagames, the country's largest digital gaming firm (which was acquired by UTV and is now part of Walt Disney), has decided to leave the company to pursue entrepreneurship. However, he will be with the company till June 30, 2013, according to a company statement.
Sameer Ganapathy, who was earlier the executive director, movie channels & channel distribution and media networks, at Disney UTV, will now head the business function of Disney UTV's digital arm.
The development was first reported by MediaNama.
"Support from our early investors and the subsequent acquisition by Walt Disney provided us the opportunity to work towards our vision of making gaming big in India. Over the past 18 months, we have spent time integrating the teams and set up a platform for continued growth. Consequently, I've decided to move on to pursue my dreams and passion of being an entrepreneur," said Gondal in a Press statement.
Gondal is also an active angel investor in the country. In 2012 alone, he made a number of investments including MeraCareerGuide.com, an online career counselling platform for students; Skift, a New York-based travel intelligence media company, and employment portals OnContract.com and StaffOnContract.com.
"As we consolidate the digital, mobile and web play for Disney UTV in India, we plan to transform the digital business to be a direct to consumer, yet work closely with all our partners, telecom operators and original equipment manufacturers (OEMs), among others," said Ronnie Screwvala, managing director at Disney UTV.
This would be similar to its approach in other verticals such as movies, broadcasting and consumer products, he added.
In August last year, media giant Walt Disney Company consolidated all its digital media properties across platforms and content under a new entity in India called Disney UTV Digital, which was co-headed by Gondal and Samir Bangara. But within a few weeks, Bangara left the firm.
The digital team of Disney UTV combines all mobile, video, audio, broadband, ITV, games and virtual world's initiatives of the company and claims to have a combined audience reach of over 300 million in India. All digital content across all brands, namely, Disney, Marvel, UTV, Indiagames and Bindass, as well as original content and games, are developed and managed by this team.
(Edited by Sanghamitra Mandal)
---