One in four startups gets angel funding, 20% of angel-backed firms score Series A: Alok Mittal

So what are the odds of an Indian startup reaching a stage where it pulls in a venture capital firm with Series A funding? Just over 5 per cent, it seems, and that, too, after it has gone through an incubator, according to Alok Mittal of Canaan Partners.
Speaking on the occasion of TiE India Internet Day, Mittal said that in a typical scenario, only about 27 per cent of startups in incubators make it to angel funding and out of that small set, only about 20 per cent reach the Series A stage. He based his data on an informal survey involving more than half a dozen stakeholders in the early-stage funding ecosystem.
The data chart (see pic) shows that 19 per cent startups go back to seed funds and 16 per cent shut shop (around one in six incubated firms shut down within a year). Although Mittal has not clarified what happens to the rest, we guess that the remaining 38 per cent tide over for a year with self-funding.

Mittal said that the average lifecycle from incubation to angel funding is about a year and the average time span for an angel-funded startup to get Series A VC funding is 1.5-3 years. Moreover, around 28 per cent or one in four angel-backed startups would go back for another round and 9 per cent or around 1 in 11 of the angel-backed startups would shut down in India.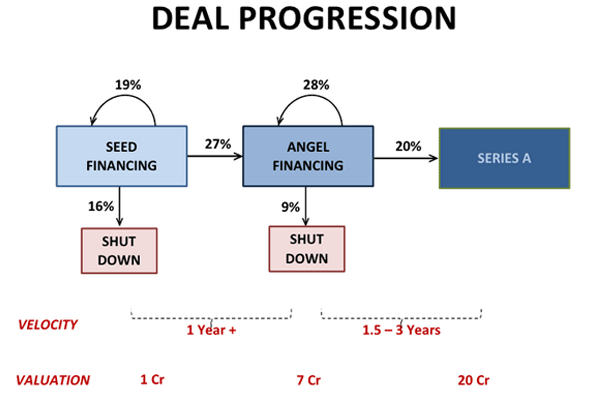 According to Mittal, the time taken from angel round to Series A is way too much. "Business opportunities get lost in a matter 2-3 years in a market like India," he told Techcircle.in.

Mittal also painted a typical equity dilution journey for a startup in the early-stage funding cycle. The seed fund/accelerator typically picks up around 10 per cent and angel funds/angel investors scoop up around 25 per cent.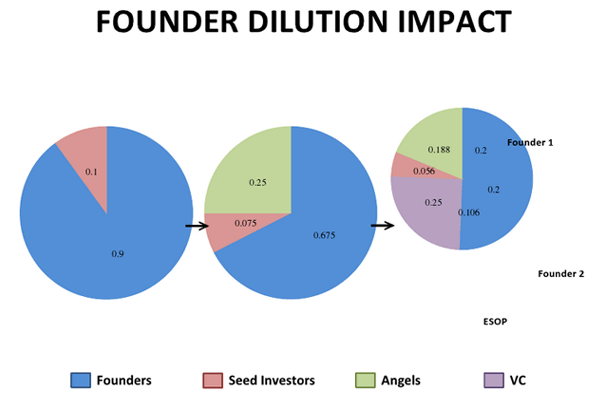 At Series A stage, the VC fund gets around 25 per cent of the diluted capital while angel investors' holding shrinks to around 18 per cent and the seed investor gets diluted to around 5 per cent. The founders, after factoring in the ESOP-led further equity issues, just about maintain majority holding. This gets diluted even more in further rounds of larger funding.

Talking about the sudden rise in the number of accelerators in the Indian startup ecosystem, Mittal said, "There is a lot of demand in the market for seed capital and hence, an opportunity. If you look at the US market, since we draw a lot of parallels from there, this whole seed/accelerator phenomenon took off there three years ago and it has got a push from there as well."
Other panellists at the session including Sanjay Nath of Blume Ventures, Mukund Mohan of Microsoft Accelerator and Shekhar Kirani of Accel Partners also acknowledged that there is a lot more angel and seed capital in India. "VCs have not changed their outlook in the last six years and these angel funds fulfil the role played by 'family and friends' in the west," said Mohan.
(Edited by Sanghamitra Mandal)

---