Zoho launches business card scanning app for iPhone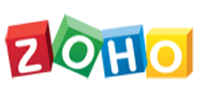 Zoho Corp., an enterprise tech firm founded in India with its headquarters in California, has launched an online business card scanning app called Card Scanner for iPhone users.
Users can take a photo of a business card and the Card Scanner converts the image to text that is automatically saved either as a new contact or lead in Zoho CRM (customer relationship management) or as a new contact in the app, the company said in a statement.
The app currently supports only iPhone. Going forward, it will be extended to iPad and Android devices.
"Data entry is one of the biggest headaches for sales people and anybody else who uses a CRM system," said Raju Vegesna, Zoho evangelist. "Card Scanner takes the pain out of data entry by automating the process of turning business cards into Zoho CRM contacts and leads."
The underlying technology is that Card Scanner extracts first names, last names, company names, addresses, phone numbers, email addresses, Twitter handles and other card information regardless of the size, font and format of the business card.
Priced at $4.99, Card Scanner can also work offline. A user working offline can take photos of the business card and save them on the device. The app automatically synchronizes the information in Zoho CRM when the user connects to the network. Besides English, Card Scanner also supports French, German and Spanish.
When business card data is saved to Zoho CRM, an image of the card is also saved as an attachment within Zoho CRM for future reference. In addition, if the card includes a Twitter handle or if a handle is later added to an existing contact, Card Scanner will automatically pull the related photo from Twitter and add it to Zoho CRM, the company claimed. You can download Card Scanner at: http://ow.ly/kC2kR.
Zoho offers a comprehensive suite of online business, productivity and collaboration apps for running business processes and managing information – both at office and outside it. The company has launched more than 25 online apps, including CRM, mail, office suite, invoicing and Web conferencing apps, to name a few. With offices in Chennai, California, Austin, Yokohama and Beijing, Zoho serves more than 6 million customers worldwide.
In February this year, Zoho's division ManageEngine launched a voice-enabled iPhone app called ServiceDesk Plus, which will help desk executives manage tickets from anywhere, any time.
A few similar apps are available in the market; among these, Evernote Hello is the leading one. Unlike Card Scanner, Evernote Hello is integrated with LinkedIn, emails and calendar. CamCard, another app, is available in almost all platforms.
Comment(s)