India ranks fifth among the top countries for smartphone users with an estimated 67 million subscribers in 2013, behind China, the US, Japan and Brazil. But the penetration of smartphones as a percentage of mobile users in India is pegged at just 6 per cent, the lowest among the top 30 smartphone markets, according to the latest '2013 Internet trends' report by Mary Meeker, partner at the venture capital firm Kleiner Perkins Caufield & Byers (KPCB).
Year-on-year growth of smartphone subscribers in India stands at 52 per cent, which is expected to be the second fastest after Taiwan at 60 per cent, among the top 30 smartphone markets in the world. The veteran venture capitalist used data from Informa for drawing her inference on technology trends.
The total number of smartphone subscribers across the globe is 1.5 billion (an increase from 1.1 billion in December 2012). While this is an impressive number, it is just 30 per cent of the global cell phone market, which is over 5 billion.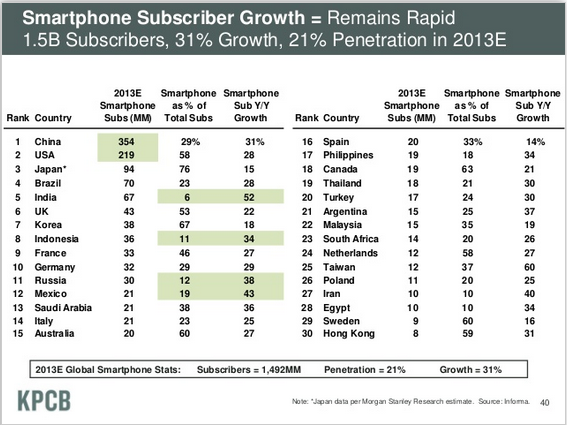 Interestingly, the report points out that over 50 per cent of total Indian netizens 'share everything' or 'most things' online, second only to Saudi Arabia (talk about being loquacious). The world average for the same is 24 per cent while for the US, it is only 15 per cent.
Growing mobile traffic
As of now, global mobile traffic already accounts for 15 per cent of the global internet traffic, an increase of 2 per cent from 13 per cent in December last year. At the current growth trajectory (it is growing 1.5x per year), mobile traffic will account for 30 per cent of the total internet traffic by May 2015 (which means it will double in two years). While mobile usage is expanding rapidly, mobile advertising opportunity remains largely untapped.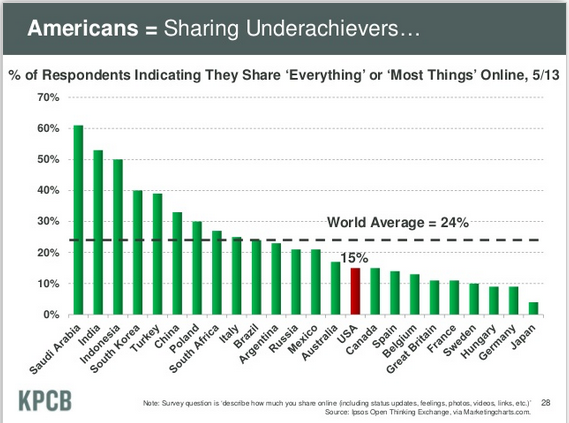 Increased data sharing
An exponential amount of data is being shared by users on a daily basis. According to the report, 100 hours of video are being uploaded per minute on YouTube while more than 500 million photos are being uploaded and shared on platforms like Flickr, Snapchat, Instagram and social networking site Facebook.
Total amount of digital information being created and shared (from documents to pictures to tweets) grew 9x in five years to reach almost 2 zettabytes (equals 1 billion gigabytes) in 2011, according to IDC. This number is estimated to reach 4 zettabytes this year and may double to 8 zettabytes by 2015.
Looking ahead, the report points out that post the smartphone and tablet storm, the future will see an uptake of wearable computing devices (like Google Glass and connected watches), connected cars, drones and other new platforms, loosely classified as wearables, drivables, flyables and scannables.
(Edited by Sanghamitra Mandal)
---