Doctor booking site HelpingDoc adds fresh revenue stream, offers healthcare deals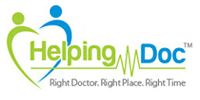 Delhi-based HelpingDoc Pvt Ltd, which owns and operates HelpingDoc.com, an online platform that lists medical professionals and enables patients to book appointments, has introduced healthcare deals on the site. These discounted healthcare packages are offered by the doctors listed on the site and can be leveraged by HelpingDoc users. The new offering has also enabled the startup to add a fresh revenue channel that will complement its current business model. The health deals cover a number of specialised services such as dental care, cosmetic surgery and maternity care.
"In India, it is an unorganised market for doctors. So we provide them a technology platform and bring them together to create visibility for them," said Amit Bansal, founder and CEO of HelpingDoc.
The startup is currently operating in Delhi-NCR and claims to have 3,000 registered doctors from hospitals like Max, Fortis, Vedanta, as well as a user base of around 20,000-25,000. The company raised around £200K (Rs 1.80 crore or $0.3 million) from UK-based angel investors in 2011. It is looking to raise Series A funding of around $1 million by the end of this year to expand into other cities.

HelpingDoc was started in April 2012 by Bansal (founder & CEO) and Dr Hemant Singhal (director, medical affairs). Both have done their MBAs from London Business School. Bansal also holds a BE degree from Punjab Technical University and has consulting experience in technology, operations and process. He had earlier worked at companies such as BusCon, Deloitte, Cable & Wireless and Mahindra British Telecom. An AIIMS graduate and a Fellow of the Royal College of Surgeons in the UK and Canada, Singhal is a practising cancer surgeon with interest in IT. He has worked across the globe and with different medical systems.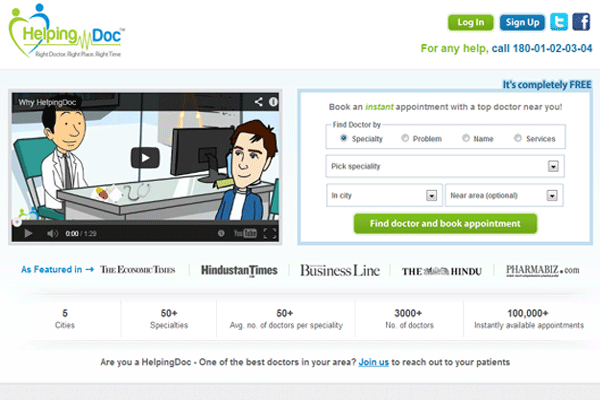 The concept behind the venture is based on the fact that most people in India are not aware whom to consult for check-up and/or treatment. Earlier, there was no easy-to-access platform to search for nearest doctors who meet one's requirements (in terms of specialisation, fee, timing, etc.). The portal aggregates doctors, along with their specialisations, fees and other relevant information, enabling patients to decide when and where to go, detailed Bansal.

To monetise the venture, the company charges yearly subscriptions from doctors listed on the site. "The subscription model will remain our major revenue stream. But now that we are featuring paid offers like healthcare deals, it is adding to our revenues," said Bansal. The startup gets a portion of the money from doctors whose deals are bought on the site. However, only listed doctors can post these packages. Although the company earns revenues from doctors' listing and the recently introduced healthcare deals, users can book doctors' appointments for free.
The startup is close to break-even, Bansal told Techcircle.in. "For Delhi-NCR operations, we are 80 per cent close to break-even and also have some money left from the angel funding. But to expand into other cities, funds will be needed. We will initially expand our operations into Bangalore and Mumbai," he added.
(Edited by Sanghamitra Mandal)

---