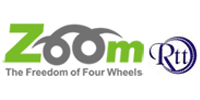 Bangalore-based ZoomCar India Pvt Ltd, which runs a membership-based, self-drive car rental service Zoom, has received $200,000 (Rs 1.2 crore) from Raj Kumar Elango, a top executive of the firm told Techcirle.in.
Elango is an active angel investor who has recently put in money in cleantech startup Wifinity and ethnic wear ecommerce venture IndusDiva. His other investments include Fetise.com, Equidebt Corporate Advisors Pvt Ltd, Arohana Dairy and Greytip Software.
Zoom had previously bagged $30,000 from former US Treasury Secretary and Harvard University president Larry Summers.
"A major chunk of the money raised from Elango will go towards the down payments of our new vehicles, and a part will be used for tech development," Zoom co-founder and president David Back said, adding, "We also have hired a full-time CTO to improve and expand our technology offering."
Zoom is also partnering with a few leading tech startups in India. "We are working with cloud telephony startup Knowlarity, online HR and payroll software provider Greytip Online, and mobile payment firm Ezetap. These are just a handful of the tech providers that allow us to provide an easier and more comfortable experience to our customers, while also increasing our efficiency and productivity," Back noted.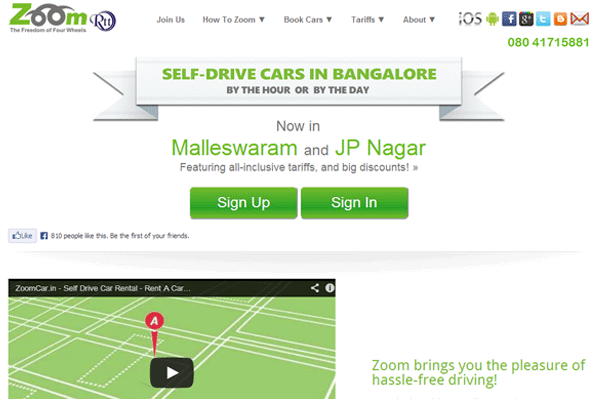 The Zoom co-founder added that the firm has grown its fleet to 30 vehicles from just seven in February this year, and are adding more. Zoom currently operates vehicle hubs in northwest Bangalore and south Bangalore; it will launch a third site in central Bangalore next week and a fourth one in early August. Zoom intends to saturate Bangalore with vehicles before expanding to Mumbai and Delhi.
Zoom is also adding new vehicle models. "We have recently added two BMW cars to our fleet. We are the only company in India that offers BMWs for self drive."
Besides BMWs, the company operates a mix of Ford Figo hatchbacks and Mahindra Scorpio SUVs, and charges customers hourly or daily. It also provides in-car navigation, including real-time traffic updates, assistance in locating parking and location-based service apps.
The startup charges Rs 199 per hour and Rs 1,999 for a day's rental for Figo while the charges are Rs 249 and Rs 2,499, respectively, for Scorpio. For a day-long trip, a customer will be charged Rs 8 per km beyond 200 km for Figo and Rs 12 for Scorpio. BMWs are available at Rs 1,249 and 12,499 on an hourly and daily basis, respectively. These rates cover the entire trip, including petrol, insurance, maintenance, roadside assistance and tax. The firm also offers 20 per cent discount on all vehicles, including BMWs, from Monday to Thursday.
Zoom had earlier raised funds from New York-based Empire Angels, an investor group led by Lady Barbara Judge, and a few other angel investors.
The Indian car rental space has been witnessing a lot of action lately. Last month, online taxi booking site TaxiForSure.com raised its first round of institutional funding from Accel Partners, Helion Venture Partners and Blume Ventures. US-based Uber Technologies Inc., which provides a mobile-based on-demand car hire service in 35 cities across the US, Europe and Canada, is looking to expand to India to make the most of this fast-growing market. Last year, online (and on phone) cab booking service BookMyCab announced the first round of fundraising from early-stage investor Your Nest Angel Fund and Mumbai Angels.
(Edited by Joby Puthuparampil Johnson)
---