Bangalore-based Cubito Solution Pvt Ltd, which owns and runs the shared cab service portal Cubito, has raised under $100K (Rs 59 lakh) in angel funding from unnamed Indian angel investors. The funds will be used to hire more people and expand into cities like Pune and Hyderabad by the end of this year. The company rolled out its service in Bangalore earlier this month and claims to be getting 300 customers a day as of now. The current team size is eight but the company will increase it to 15 in the coming months.
The development was first reported by Yourstory although Pranay Agarwal, co-founder of Cubito, told Techcircle.in the funding numbers mentioned in that copy were incorrect.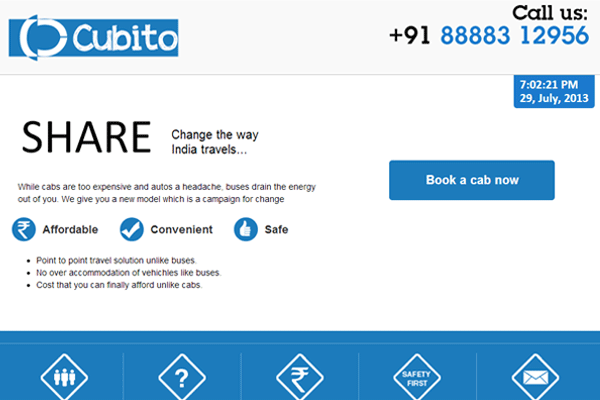 Cubito was co-founded in July 2012 by Akhil Singh and Agarwal. The company started its pilot in Goa last year and claims to have registered 10,000 customers in the region. Prior to Cubito, Singh had co-founded Spectrum Casuals, a startup focused on selling bulk apparels. He is currently pursuing M.Sc in Information Systems and Computer Programming from BITS Pilani. Agarwal was earlier working as a designer at Spectrum Casuals and holds a bachelor's degree in Chemical Engineering from Birla Institute of Technology and Science, Goa.
The startup offers an online technology platform to pool/group together people travelling on the same route. As a result, the company can provide a shared cab service at a cost similar to that of public transportation in that particular city. Currently, the pricing stands at Rs 7.5/km, which is much cheaper than the standard Rs 15-20 charged by other online cab aggregators.
Other investments in the space
Online car rental service has become one of the hottest segments in the consumer internet space and has attracted a lot of funding. Earlier this month, we reported that Mumbai-based ANI Technologies Pvt Ltd, which runs an online marketplace for cabs and car rental services under the brand Olacabs, is close to raising $10 million in Series B funding.
In June this year, Bangalore-based Serendipity Infolabs Pvt Ltd, the company that operates the online taxi booking site TaxiForSure.com, raised its first round of institutional funding from existing seed investors Accel Partners, Helion Venture Partners and Blume Ventures.
Prior to that, Sharedcab.com, a provider of shared taxi services, raised under Rs 5 crore from Anupam Mittal, Sasha Mirchandani (of Kae Capital), Blume Ventures, Rajesh Sawhney and a few unmanned investors.
Also, BookMyCab, run by the startup LiveMinds Solutions Pvt Ltd, raised an undisclosed amount in its first round of fundraising from early-stage investor Your Nest Angel Fund and Mumbai Angels last year.
In April 2012, Bangalore-based Savaari Car Rentals Pvt Ltd raised Series A funding of Rs 5 crore from Inventus Capital Partners. Then there was Taxiguide, an online car rental service, which raised Rs 25 lakh in angel funding from Anand RP, investment director at Squadron Capital. Anand made this investment in his personal capacity and in the same month, Bangalore-based startup YourCabs Auto Services Pvt Ltd, which runs YourCabs.com, an online cab booking service, received an undisclosed amount in angel funding from Sprism Investment Pvt Ltd and an unnamed angel investor.
(Edited by Sanghamitra Mandal)
---