Digital agency Gozoop has acquired Mumbai-based social media agency Red Digital. While the company has not disclosed the financials of the deal, according to , Gozoop made the acquisition for Rs 7 crore ($1.1 million). We contacted the company for confirmation on the figures, but Ahmed Aftab Naqvi, co-founder and MD, Gozoop, denied the same. "The Rs 7 crore figure mentioned in the ET report is incorrect. We have not released any figures for the deal," he said.
As part of the acquisition, Gozoop will take over Red Digital's operations, its employees as well as all its clients, thus strengthening its India operations.
The acquisition is in line with Gozoop's strategy of increasing the revenue contribution from its Indian operations. Currently, 65 per cent of Gozoop's revenue is attributed to its international operations in UAE and Singapore. Post the acquisition, the company plans to double its Indian revenue in the next financial year, which should contribute close to 50 per cent of its total revenue. The acquisition will also increase the employee strength of the company to about 100 members.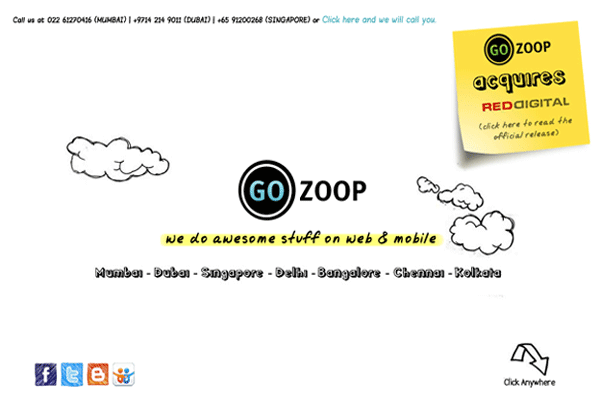 "Red Digital"s brands and top talent, together with Gozoop"s end-to-end digital service offerings and social products like Zozolo, will help move our collective clients forward. We expect further consolidation in the industry and look forward to acquiring digital agencies to fuel our growth in India as well as to enter International markets like the US, Australia and Qatar," said Ahmed Naqvi, co-founder and MD (India), Gozoop.
Red Digital was co-founded by Bhavit Sheth and Harsh Jain. The Bangalore-based company has a presence in four other cities (Delhi, Bangalore, Chennai and Kolkata) in the country, and over the past few years, has worked with clients like Mumbai Indians, Dell, PepsiCo, BMW, Parker Pens, Adidas, PVR, Godrej, Berger Paints, Reliance Foundation, Educomp, Citibank, ICC and Discovery Channel.
"Our clients will now reap the benefits of getting serviced by a much larger agency and can avail Gozoop"s in-house proprietary products such as Zozolo Social Loyalty and Zozolo Social Commerce," said Sheth. He will be actively involved during the transition period, to ensure a smooth process.
Founded in 2010 by the trio of Naqvi, Rohan Bhansali and Dushyant Bhatia, Gozoop's business consists of three verticals—services, products and web properties. Under Gozoop Services, the company provides social media marketing, online PR, search engine marketing and optimisation, media buying, web design & development and mobile applications. Under Gozoop Products, it offers two properties—Zozolo Social Loyalty and Zozolo Social Commerce. The Mumbai-based company also has presence in Dubai and Singapore. Its clientele include brands like Xpress Money, Interglobe, High Street Phoenix, Commercial Bank of Dubai, Tim Hortons, Cold Stone Creamery, Seacod and Mad Over Donuts.
Over the next three years, Gozoop plans to utilise over $2 million to enter international markets like the US, Australia and Qatar. The company is also targeting revenue of $10 million by 2016, with an expected year-on-year growth of 40 per cent.
Other acquisitions in the space
Last week, To The New, a digital media firm in India, acquired Techsailor, a Singapore-based digital marketing company for an undisclosed amount. HT Mobile Solutions Ltd, a subsidiary of HT Media Ltd, also acquired the digital media marketing business of Lucknow-based Bluelemon Technologies Pvt Ltd, which provides web- and desktop-based applications to enterprises.
In March this year, Publicis Groupe, a French MNC specialising in advertising and communications, had acquired Indian digital marketing agency and consulting company Convonix Systems Pvt Ltd for an undisclosed amount. Prior to that, it had acquired iStrat, a digital media agency and MarketGate Consulting Pvt Ltd, a brand and business consulting firm, for undisclosed sums. The acquisitions are part of its aim to double its size in the country by 2015.
(Edited by Joby Puthuparampil Johnson)
---