Indian Angel Network (IAN), a national network of angel investors investing in startups and early-stage ventures, has invested an undisclosed amount in AM Edumedia Pvt Ltd, which runs IndiaCollegeSearch.com, an online search engine for Indian colleges and universities. The investment was led by IAN members Anupam Mittal, Vikram Upadhyaya, and Varun Khurana and as part of the investment, Upadhyaya and Khurana will join the board of the startup.
The funds will primarily be used for product development and expanding the company's sales and marketing presence in the country. While IAN has taken only two board seats (which is standard for the investor), Mittal will also be actively involved in the mentoring of the startup. "While I am a limited when it comes to taking board seats, in no way does that limit the role. We are now preparing the startup for the Series A round that could happen in the next 18-24 months," said Mittal.
The Delhi-based startup was co-founded by Anirudh Motwani and Parul Bansal in 2010. Prior to IndiaCollegeSearch, Motwani has worked in companies like Cvent, Tech Mahindra and holds a BE degree in computer science from BITS, Pilani. Parul has earlier worked at Aditya Birla Group and NTPC Ltd, and holds a MBA degree in finance from ICFAI Business School. The team size is 15.
The IndiaCollegeSearch website enables students to search for and select the right college / university among the thousands available in the country. Using this site, one can search for fees, cut-off criteria, placements, courses, locations, college infrastructure and faculty. The site also showcases profiles of top institutions. After searching, registered users can select a college for shortlisting or apply directly to the institution of their choice. The website currently offers information on 1,200 engineering colleges across the country.
According to Motwani, the site has around a million registered users, while it is getting 7 lakh college search enquires on a monthly basis. While the platform is free for students, for revenues, the company focuses on colleges / universities by offering them a freemium model (colleges can list for free but for responding to applications they need a membership), featured listings (for colleges / universities), as well as advanced analytics. Motwani further claims that the company has been growing over 100 per cent quarter on quarter in the past two quarters and in the last quarter alone it did half a million dollars in revenues.
In November 2011, the startup had raised its first round of funding from Delhi-based boutique investment firm VAS Capital. The firm had invested Rs 58 lakh in the startup for 32 per cent stake. The deal valued IndiaCollegeSearch at Rs 1.8 crore.
"While there are a bunch of online education startups, they haven't been that successful primarily because they haven't focused on solving a specific problem, rather looked at the industry from a macro level. What interested us in IndiaCollegeSearch was the fact that the startup is targeting one pain point of the education sector and is solving it in a clutter-free, focused manner," said Mittal.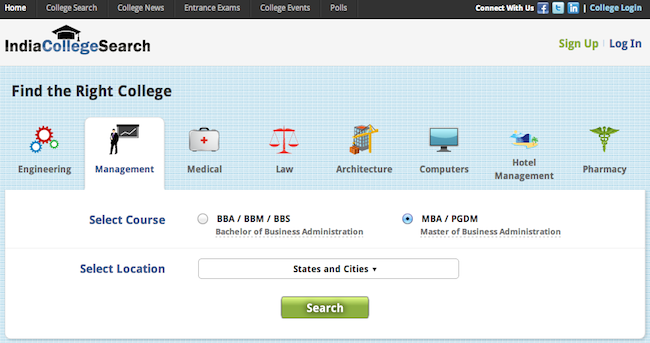 Indian Angel Network has over 225 members and has funded around 50 startups across sectors like IT, mobile, healthcare and education – both in India and abroad. In 2011, IAN invested over $8 million in 11 startups and last year, this amount increased to $11 million, invested in 17 companies.
Early this month, IAN formed a sub-group called IAN Impact, which will focus on social enterprises addressing the problems of people living at the bottom of the pyramid. IAN Impact will put in up to Rs 2 crore ($333,000) in six early-stage companies per year.
IAN investments this year
July 2013: SnapLion Global Ltd, the company that owns and operates SnapLion.com, an online platform to create sleek, interactive mobile apps for anyone wishing to engage their fans in real time, received undisclosed round of funding from India Internet Group, Blume Ventures, and Rehan Yar Khan-led Orios Venture Partners. Silicon Valley-based investors including Vuclip CEO Nickhil Jakatdar and Piyush Shah, apart from Indian Angel Network members Rajan Anandan, Sandeep Soni and Gaurav Sharma, also participated in the round.
July 2013: Delhi-based social tech company Gram Vaani Community Media Pvt Ltd, whose social platform features voice and video-based local media offerings, raised $500,000 in its first equity investment round from IAN, along with a few unnamed investors.
March 2013: Invested an undisclosed amount in online education company Rank Junction Pvt Ltd which runs RankJunction.com, a ranking platform for competitive exams.
Feb 2013: Invested an undisclosed amount in Seattle-based Mobilewalla, a search portal for mobile apps, with IAN members Rajan Anandan, Venkat Raju and Sharad Sharma leading the investment round. As part of the investment, Raju joined the Mobilewalla board.
Feb 2013: XinLab Inc., which operates under the brand Vuclip, acquired Mumbai and Toronto-based mobile video streaming startup Jigsee in an all-stock deal while early investors Indian Angel Network (IAN) and venture capital firm Sequoia Capital, who had invested in Jigsee two years ago, swapped stake to become shareholders of VC-backed Vuclip.
---