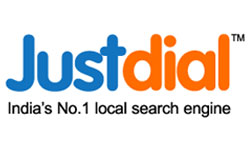 Mumbai-based Just Dial Ltd, which runs the local-specific online business directory Justdial.com, has recorded a 69 per cent increase in net profit for the quarter ended June 30, 2013, backed by strong revenue growth driven by mobile-based search.
Just Dial's Q1 operating revenue increased 28 per cent to Rs 104.56 crore from the same period last year. The increase in revenues is mainly attributed to a surge in mobile-based search, which rose to 19.5 million from 7.9 million in the same quarter last year.
Net profit for the period was Rs 28.04 crore. This was the first quarterly results after the firm went public with the biggest consumer internet public issue in the country.
On a year-on-year basis, operating EBIDTA increased 45 per cent to Rs 36.25 crore from Rs 25 crore. Operating EBITDA margin expanded 4 percentage points or 400 basis points to 35 per cent (for FY13 it stood at 28 per cent). Net margin also expanded from 20 per cent to 25 per cent in the same period.
"Just Dial has delivered a strong quarterly performance with continued high growth and expanding profitability. The operating leverage is clearly demonstrated in the [operating / EBITDA] margin expansion achieved during the quarter," said Just Dial MD and CEO VSS Mani.
Paid listings: 
As of June 30, 2013, the firm was conducting approximately 221,500 campaigns for its paid advertisers, compared to 181,000 campaigns as of June 30 last year, representing a year-on-year growth of 22 per cent. This also translates into 7.2 per cent rise in such paid campaigns sequentially over the quarter ended March 31, 2013, marking an acceleration compared to 5.8 per cent rise sequentially in the previous quarter.
As of June 30, 2013 its database consisted of approximately 9.5 million listings as compared to 7.7 million listings as of June 30, 2012, representing a Y-o-Y growth of 23 per cent. Paid listings as percentage of total listings rose marginally from 2.2 per cent (for FY13 as a whole) to 2.3 per cent during the quarter.
Search metrics:
The firm's search service is available to users through multiple platforms, including internet, mobile internet, voice call and SMS. The firm received approximately 115.2 million search requests in Q1 compared to 84.7 million in the same quarter a year ago, representing a 36 per cent growth.
This quarter saw a 31 per cent increase in the PC-based searches as well, which reached 56.4 million from 43 million last year. Voice-based searches increased 17 per cent t0 39.3 million searches while mobile internet searches rose 148 per cent to 19.5 million.
Internet platform (both PC & mobile) contributed 66 per cent of total search requests in Q1 compared to 60 per cent in the year-ago period, while mobile internet visits contributed to 17 per cent of the total search requests vis-a-vis 9 per cent in Q1 last year.
---