Yebhi-powered IRCTC's e-commerce site goes live, retailing apparel, electronics & more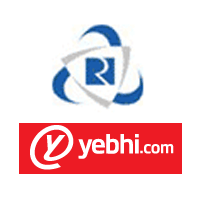 Indian Railway Catering and Tourism Corporation (IRCTC), a subsidiary of the government controlled Indian Railways that handles the catering, tourism and online ticketing operations, has finally launched its e-commerce portal which will be powered by Yebhi.com.
Announced earlier this year, the e-commerce initiative of IRCTC has gone live with all the categories available at Yebhi.com, which include apparel, electronics, accessories, furnishings and kids. The portal is being marketed at the main IRCTC page and upon clicking it, users are redirected to a different page. The portal is strikingly similar to Yebhi's platform, which is sad because the ideal thing would have been to offer consumers something new. It almost feels like you are on Yebhi.com; even the UX is same.
Earlier, talking to Techcircle.in, Nikhil Rungta, chief business officer, Yebhi.com, had stated that both parties are looking to do business worth Rs 200 crore within the first year of the initiative's launch. As per the deal, Shop Online Trading Pvt Ltd. (SOTPL), the company that runs Yebhi.com (under brand rights from Big Shoe Bazaar India Pvt Ltd) and Yebhi.com are responsible for developing and managing the e-commerce platform for IRCTC. And while the front-end will belong to IRCTC, the entire back-end supply-chain will be managed by Yebhi.

IRCTC gets close to 1.2 million daily visits generating 180 million transactions every year, making it the largest e-commerce site in the country focused on the train ticketing business. It also added air ticketing sometime ago. With this move, IRCTC is looking to leverage its platform for selling other goods, becoming a one-stop e-tailing platform. With this move IRCTC will be competing for customer attention with established e-com biggies like Myntra, Flipkart and Jabong. Also, with Amazon India steadily increasing its presence across various categories, it could be the biggest threat to the new entrant, especially with rumours doing the rounds that Amazon will soon launch a fashion segment of its own.
In addition, IRCTC has been facing a lot of criticism from consumers for being unable to handle the amount of traffic it gets. Add to that the fact that the new category addition could push the traffic levels further. It remains to be seen how IRCTC plans to handle the same.
(Edited by Joby Puthuparampil Johnson)

---