P2P instant messenger Hike inks partnership with Airtel for 3 months free data usage on the network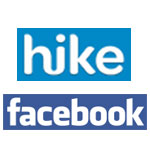 Hike, the instant messaging app from BSB (Bharti Softbank- the joint venture between Bharti Group and Japan's Softbank) has announced its first telco partnership with Airtel, wherein the telecom operator's pre-paid users will get the first three months of usage on Hike for free, it disclosed in a blog post on Tuesday.
Various messaging and social networking sites have sealed such free data usage deal with telecom firms to draw users. Telcos hope that this could help them boost data revenues over time. While Hike is positioned as an operator agnostic messaging service its link with Bharti group could have come in handy for striking such a partnership.
BSB counts Kavin Bharti Mittal (son of Bharti Group honcho Sunil Mittal) as one of the top executives and that is why it is surprising that this partnership has come into picture more than a year after its launch. Earlier, whenever he has been asked about a partnership with any particular telecom company he had maintained that the firm has similar relationships with all leading telcos.
The exact terms of the latest deal have not been disclosed but the offer is open to existing customers as well as new customers of Hike. The new customers will get first three months free usage whereas existing ones would get to use the app for free for three months starting from 1st September 2013.
Founded in July last year, Hike is a peer-to-peer (P2P) messaging app that uses both data and SMS to deliver messages. One of its key features is that those who don't have Hike on their phones can still receive an instant message as an SMS. You can also respond to it but have to pay normal SMS charges for that. It claims to have been witnessing steep growth. Last checked, it had reached 1 billion messages a month. Earlier this year, BSB put in $7 million in the startup which was to be utilised for localised enhancement and marketing initiatives.
Comment(s)