70% of smartphone users spend 15 minutes daily on gaming; Subway Surfers most engaging game: Nielsen

Gaming has always been one of the most popular activities on smartphones (even before the smartphone era we were hooked on games like Snake and Tetris), so much so that 7 of 10 users (70 per cent) spend close to 15 minutes a day on games, or seven and a half hours on a monthly basis, according to a study by Nielsen Informate Mobile Insights, which reveal insights about different gaming habits of smartphone users.
While most gamers are light gamers and spend just over two minutes a day on gaming, but 1 out of every 7 are heavy gamers and spend over an hour each day on gaming (that's like over a day every month!).
Segmenting gamers

Smartphone users can be segmented into heavy, medium and light gamers- based on the time they spend gaming. Majority of gamers (67 per cent) are light gamers and spend under 10 minutes / day on gaming, medium gamers (19 per cent) spend anywhere between 10 to 30 mins / day on the same. In contrast, heavy gamers (14%) spend over half an hour on a daily basis playing games on their smartphones.
Not surprisingly, heavy gamers also install the most games each month indicating a higher propensity to actively seek out more games. Heavy gamers were downloading at least five games per month, medium download four and light gamers download only two.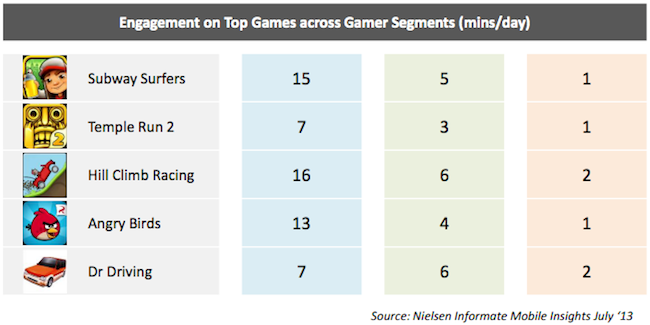 Interestingly, the top games played by users remained the same across the different gamer segments, while the key differentiator was the engagement. On an average, heavy gamers spent over an hour each day on games, while medium gamers spend around 18 minutes and light gamers spend just two minutes on gaming each day.
The top five games across gamer segments were Subway Surfers, Temple Run 2, Hill Climb Racing, Angry Birds and Dr Driving, in that order. Although in terms of engagement for each game, Hill Climb Racing took number one position with gamers spending 16 (heavy), 6 (medium) and 2 (light) minutes on the game on a daily basis. Subway Surfers came second in terms of engagement, followed closely by Angry Birds.
Gaming not child's play

Unlike popular belief that the heaviest gamers will consist of a majority of younger smartphone users, nearly half (45 per cent) of all heavy gamers are aged between 25 and 35 years of age. This age group is young enough to be smartphone savvy and old enough to be able to afford more capable smartphones- making them the largest proportion in the heavy gamer segment.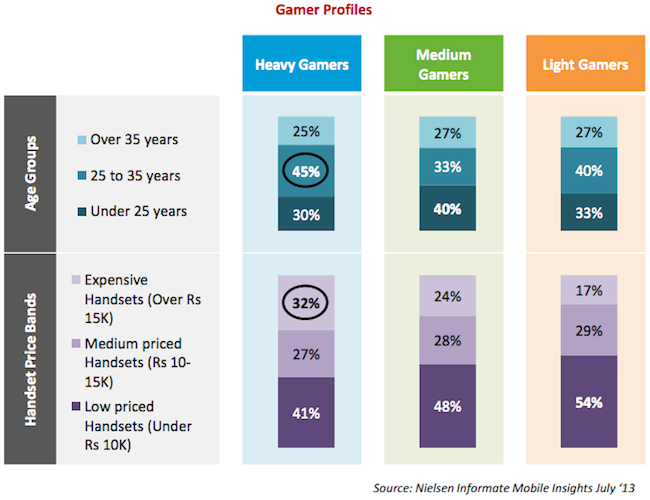 Also, one fourth of all heavy gamers are over 35 years of age, which means that the under 25 years of age segment only accounts for 30 per cent of heavy gamers. In terms of handset prices, 41 per cent of heavy gamers own low priced handsets (under Rs 10,000), while 32 per cent owns high priced ones (over Rs 15,000).

---