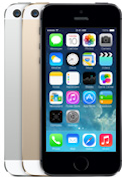 The fingerprint reader on Apple Inc's top-end iPhone 5S received an early thumbs up for ease of use from two influential reviewers, helping dispel concerns about the scanning technology which has been notoriously unreliable in other cellphones.
Apple's scanner is seen as a first step toward realizing the full potential for biometrics in personal electronics, heightening security for applications like banking and shopping while doing away with multiple passwords.
"The best part is that it actually works - every single time, in my tests," wrote reviewer David Pogue of the New York Times.
"It's nothing like the balky, infuriating fingerprint-reader efforts of earlier cellphones. It's genuinely awesome; the haters can go jump off a pier."
The Wall Street Journal's Walt Mossberg was also enthusiastic, calling it simple and reliable. But he noted that the gadget would inexplicably prompt him for a password when swiping a finger to make purchases, which he blamed on a bug.
"I have come to like it and consider it a step forward, despite a few issues," he said of the overall device.
Re-tooled iOS7 mobile software, a better camera, a more useful voice-activated "Siri" personal digital assistant and a faster processor combined to make the iPhone 5S the best smartphone on the market, he added.
However, he argued that owners of the previous-generation iPhone 5 may not have a compelling reason to buy the latest device unless they specifically wanted the fingerprint reader.
Many industry analysts view the iPhone 5S and the cheaper 5C as being modest improvements on the previous generation, reviving fears that Apple's most innovative days may be behind it. They said the mere fact of a fingerprint scanner was unlikely by itself to make the gadget a sure win in a crowded market.
Apple has embedded the scanner into the iPhone's home button, while other mobile devices usually have it on the back, making it awkward for the user and increasing the number of failed attempts.
Archrival Samsung Electronics Co Ltd and fellow South Korean electronics manufacturer LG Electronics Inc have had problems incorporating the technology into finished products.
---