Trip planning startup Planmy.travel goes live in public beta; what's on offer?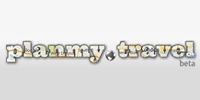 Bangalore-based Planmy.travel, a technology platform for users to discover and buy travel consulting from destination experts, has gone live in public beta. But instead of offering a bland trip-planning site, the startup has made things interesting by introducing the concept of 'Travel Ninja'. Interested users can find a Travel Ninja based on their destination and interests, and hire him/her to help them plan the trip.
Who are Travel Ninjas?
The Travel Ninjas are destination experts that the company claims are selected from among popular travel bloggers, guidebook authors, travel journalists, conservationists, etc. And since they plan trips all the time, they are familiar with the best travel planning shortcuts, tools and resources that a layman would not know of.

"Think of it like having a well-traveled friend who has been there, done that, and loves helping you discover amazing travel experiences," said Aashish Gupta, founder and CEO, Planmy.travel. The Travel Ninja's fee starts from as low as $5 (Rs 312) and can go up to $80 (Rs 5,000), depending on the trip's complexity and the Travel Ninja's ratings.
While the company maintains that Travel Ninjas are not travel agents or affiliate marketers and they do not earn commissions from the recommendations they make, this is not an enforced rule. "Some of them are travel professionals and may earn commissions or fees from their recommendations. But our rating system ensures that they still do what is best for you. A Travel Ninja who gives bad advice for the sake of commissions won't remain on our platform for long," he said.
To make the best of the startup's service, users should hire a Travel Ninja at least two weeks before their departure (longer for complex trips), since it takes that much time to carefully customise a trip to the user's exact needs. While some Travel Ninjas (who are also travel industry professionals) could assist you with your bookings, in general, they suggest the best websites/agencies for the same.

Planmy.travel site
PlanMy Travel Pvt Ltd, the company behind Planmy.travel was founded by Gupta (CEO) in February this year. Prior to setting up Planmy.travel, he founded a travel-planning store Yellowleg.com, and also worked at companies like Amazon.com and Microsoft. He holds a BE degree in computer engineering from University of Mumbai and a MS degree in computer science from State University of New York at Stony Brook (US).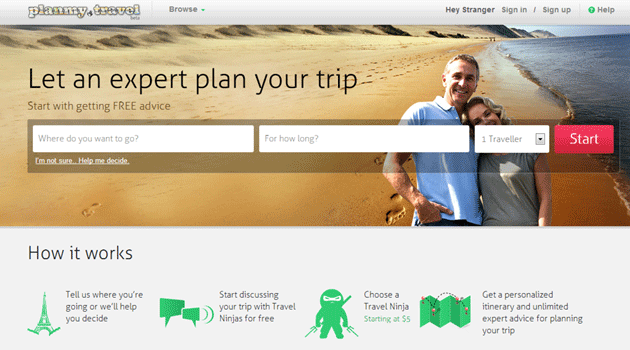 While the team size of the startup is three as of now (including the founder), the site offers users 40 Travel Ninja's to choose from. Users can plan trips according to a particular destination or interests or select from a pre-planned trip. In terms of destinations, the site offers trip-planning for 48 countries—most of them from India, Europe and Southeast Asia. Interests can range from art+culture, food+wine, luxury, active+adventure, shopping, to honeymoon/romantic, and some of the pre-planned trips we found included 'Food & Music Tour of West Africa & Morocco', 'Anniversary trip to Italy and Paris' and 'Extended family reunion in Asia + Solo diving'.
Users can also post a trial question, then choose from among the Travel Ninjas who answer it. The company also offers a no questions asked three-week money back guarantee for unsatisfied customers.
Fundraising, competition and market opportunity

Planmy.travel was part of the eight startups selected by The Morpheus (TM), a startup accelerator founded in 2008 by the husband-wife duo Sameer Guglani and Nandini Hirianniah, as part of the ninth batch of its Startup Acceleration Programme (SAP). After the completion of the programme, the startup received Rs 5 lakh in funding (the norm for all graduating startups).
It is now looking to raise between Rs 50 lakh to Rs 1 crore in funding, which will primarily be invested on customer acquisition and product development. As of now, the startup is doing a rev-share of 80-20 per cent, with the lion's share going to the Travel Ninjas. "We are not very focused on revenues as of now. The focus is on customer acquisition and once we have a decent amount of traction on the site, we will revisit the rev-share, as well as look at other revenue channels," said Gupta.
In terms of competition, according to Gupta, the biggest threat is from people who believe they can organise and plan a trip on their own. "The offline travel and tours are mostly dead (probably only prevalent in India), and while other sites offer trip-planning, they don't offer personalised one-on-one assistance to the level that we do," he added.

And even though the company is experimenting with the Indian market as of now, it feels that the biggest market opportunity lies in the US. Probably that's why the site has an only dollar pricing.
Why the unconventional name?
According to Gupta, while a dot-com is the most easily remembered domain name, the problem is that good, easy to remember dot-com domains are almost never available (for cheap).

"I was faced to choose between a .co domain and a less catchy .com domain. But given that the domain name is the best branding tool, either of these options felt wrong. I chanced upon the .travel top-level domain (TLD) and after a bit of brainstorming different names, PlanMy.Travel seemed like a perfect choice," he concluded.
(Edited by Joby Puthuparampil Johnson)
---