A quick look at the 10 startups selected for iAccelerator's 2013 batch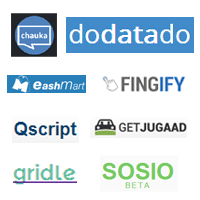 iAccelerator, the flagship programme of the Center for Innovation, Incubation and Entrepreneurship (CIIE) at IIM Ahmedabad, has picked ten startups in its latest 2013 batch. The startups were chosen out of 500 plus applications and for the purpose of the selection, profiles of the teams, their value propositions, competitive advantages and business models were scrutinised by the iAccelerator team.
The on-going three month residential program kicked off on September 2, 2013 and will culminate on November 30 with a 'Demo Day' where the teams will present their revised business plans in front of investors and corporates. Startups participating in the programme will receive investment of up to Rs 10 lakh for their project in the incubation residential programme.
Launched in 2009, iAccelarator is a flagship programme of the CIIE. Since its inception in 2009, the programme has supported over 45 successful startups in the mobile and web domain. Here is a quick look at the selected startups:

Chauka: Wants to revolutionise the way amateur sports are played in India. With current focus on cricket, the startup offers mobile and web applications to help players connect with other players in their city, join matches and score matches on mobile. Players get live scorecards, detailed match analysis and automatically updated profiles and ranks which can be shared on social networks.
DoDataDo: Claims to bring the power of big data analytics to the average website owner. The company's tool monitors web traffic and provides actionable micro-insights to improve conversions, in real time. Businesses, for which their website is becoming an increasingly important source for leads, can use DoDataDo to convert more visitors into customers.
EashMart: Enables users to make card payments via their smartphones. Claims its security measures are completely safe and in compliance with international and government of India mandated standards.

Fingify: Places advertisements on the smartphones lock screen and pays you every time you unlock your phone. These earned credits can then be converted into mobile recharges, while the brands get high visibility through the largest available space on a phone.
Gridle: A collaboration and enterprise software that makes communication within enterprises easier through visual, cloud and economical collaboration.
Locator: A mobile utility location based service that adopts your entire phonebook into its directory and provides you with location data of users on request. You can also share your location with others and save addresses under a specific name too.

Mech Mocha: A mobile game development startup whose first game under development is called 'Pablo and The Puppet Punch'. The game is a blend of sci-fi and puppet culture that follows the main character 'Pablo', who has to fight evil puppets with lasers, bombs, swords and bullets.
QScript: A survey management solution that enables companies to collect survey data using mobile devices. Through QScript, marketing agencies can create complex surveys, analyse data in real time, decrease cost of data entry and ensure a higher level of data accuracy. Its platform also supports audio visual questions and answers.
Rideshare: The startup wants to address the problem of commuting in Indian traffic, the driving stress, and the soaring fuel costs, by allowing verified commuters to share, and find rides with other verified commuters via its website and mobile apps. The company also facilitates cashless traveling and women-only rideshares.

Sosio: A cloud based application custom tailored to suit the requirements of communities. The platform helps them (communities) attract volunteers, manage their supporters for their events/causes, raise funds and measure their key performance Indicators.
---