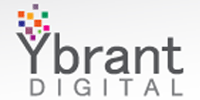 Hyderabad-based digital marketing company Ybrant Digital Ltd has roped in Krishna Srinivas as its general manager - sales, for the APAC region. Prior to joining Ybrant Digital, Srinivas was director of media solutions, Southeast Asia for the Walt Disney Company based in Singapore.
This addition to the team is in line with Ybrant Digital's expansion into the Southeast Asian market. The Asian business, previously managed out of Australia, will now be headquartered out of Singapore with a local sales and operations team lead by Srinivas.
"We already have a successful business set up and operations in Thailand; so the addition of the Singapore set-up will enable us to grow our client base and support in the region with additional offices in each of the Asian market to be set up with local teams over 6-12 months," said Suresh Reddy, chairman and CEO of Ybrant Digital.
In May last year, Ybrant Digital entered into an agreement to acquire PriceGrabber, LowerMyBills and ClassesUSA.com from Experian, which is currently one of the top five Internet advertisers in the US. Ybrant Digital had said that it would acquire these three businesses for $175 million (around Rs 938 crore), including $100 million in cash and another $75 million in a bridge loan from ICICI Bank and Credit Suisse.
However, the deal failed to go through as Ybrant Digital could not put together the finance for the acquisition.
Started in 2000, Ybrant Digital offers digital marketing solutions to businesses, agencies and online publishers globally. The firm has offices in 20 countries, including the US, Argentina, Brazil, Chile, Uruguay, Mexico, the UK, France, Germany, Sweden, Ukraine, Serbia, Israel, China, India and Australia. Moreover, it has partners in Spain, Greece and the Netherlands.
Ybrant Digital acquired several global businesses over the past five years, including Lycos (in an all-stock deal in August 2010), Australian ad network Max Interactive and Argentina-based ad network Dream Ad (in 2009), Israeli company Oridian (for $13 million), Serbia-based Seenetix (in 2007), US-based MediosOne (in 2006) and also ad network AdDynamix (for $10 million). The company also picked up minority stake in Israel-based Web 3.0 in an all-cash deal in June 2011.
Ybrant Digital had executed a reverse merger with BSE-listed IT outsourcing services provider LGS Global Ltd and was listed in July 2012.
(Edited by Joby Puthuparampil Johnson)
---