Jasper Infotech Pvt Ltd, which runs online marketplace Snapdeal, is looking to raise between $150-200 million in a new round of funding from existing investor eBay, as well as SoftBank, a Japan-based telecommunications, internet and media conglomerate and a number of unnamed private equity investors. While Snapdeal's last round of funding valued it at over Rs 1,000 crore, the new round could see its valuation go up to $750 million, according to The Times of India.
We have contacted the company for an official response on the same, and will update the story when we receive the same.
Earlier this year, Snapdeal had raised $50 million from eBay, Japan's Recruit Holdings, Intel Capital, Russian venture fund ru-Net and Saama Capital. Existing investors Bessemer Venture Partners, Nexus Venture Partners, Indo-US Venture Partners (now known as Kalaari Capital) and Kenneth Glass have also participated in the funding round. Another investor who participated in the round included Hans Tung, who set up Bessemer Venture Partner's China investment practice and is currently the managing partner of Beijing-based Qiming Venture Partners.
As of now, the total influx of capital in Snapdeal stands at about $103 million in four rounds. In July 2011, Snapdeal had raised $40 million in Series C funding, led by Bessemer Venture Partners, along with existing investors Nexus Venture Partners and Indo-US Venture Partners. That investment happened barely six months after the company announced fundraising of $12 million from Nexus and Indo-US Venture Partners.
Started as a pure online deals site, Snapdeal.com pivoted to a full-fledged horizontal e-commerce company via a marketplace model in September 2011. Recently, it had inked an exclusive partnership with Manak Waste Management Pvt Ltd that runs a used gadgets' exchange service called ReGlobe. As part of the partnership, Snapdeal introduced ReGlobe on its portal wherein consumers can sell their used mobile phones, tablets and laptops in exchange for hard cash.
In May 2013, it acquired Shopo.in for an undisclosed amount. As a part of the deal, Snapdeal merged the sellers on Shopo with its own horizontal marketplace and shut the Shopo site.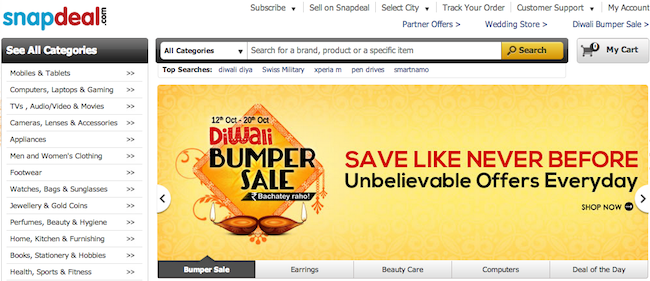 eBay's endgame?
Online auction and shopping marketplace eBay Inc., which entered India after acquiring an existing online site Bazee.com, has built a well established online marketplace in India but has been facing new crop of local e-commerce firms such as Flipkart.com. At the same time, it has also made standalone investments in digital commerce firms in the country such as Quikr, which is an online classifieds site.
The company already has an under 10 per cent stake in Snapdeal (courtesy the investment earlier this year) and with the new investment (if / when it happens), it's stake could further increase substantially. So what is eBay's end game? We feel at the rate things are moving, the company could very well end up acquiring the controlling stake in Snapdeal, in the process further strengthening its position as a leading marketplace in the country.
eBay had recently inaugurated its new global development centre (GDC) in Bangalore. The centre is spread across 1.5 lakh square feet and will host several centres of excellence for both the eBay marketplaces as well as PayPal, its payments company. The company is also planning to hire 700 engineers over the next three years for its Bangalore development centre, taking the total employee count in the centre to 1,000 (it already has an employee strength of 300).
The e-com marketplace funding war
If Snapdeal is successful in raising the $200 million, it will provide the company with the much-needed gunpowder to take on the other big wigs of the Indian e-commerce space. Earlier this month, India's largest consumer e-commerce player Flipkart.com had raised an additional $160 million (Rs 990 crore) in the fifth round of funding started in July this year, from new investors including Belgium-based Sofina, US-based Morgan Stanley Investment Management, Dragoneer Investment Group and Vulcan Capital (founded by Microsoft co-founder Paul Allen), along with participation from existing investor Tiger Global.
Flipkart Pvt Ltd, a Singapore-based holding firm, had previously raised $200 million from existing investors Naspers Group, Accel Partners, ICONIQ Capital, and Tiger Global in the first tranche of the group's fifth round of external funding. This was just three months ago and with the second phase, the total capital raised from the fifth round reaches $360 million, which is the single-largest amount to be raised by any Indian internet business ever. The fresh funding took the total funding for Flipkart so far to over $540 million.
The other big competitor that the company faces in the country is Amazon.in, the marketplace launched in India by Amazon Seller Services Pvt Ltd, part of the world's largest e-commerce firm Amazon.com.
---