BlackBerry rolls out BBM to Android, iPhone users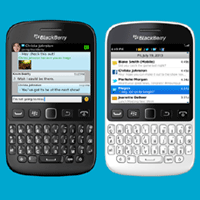 BlackBerry Ltd said on Monday it has begun to roll out its BlackBerry Messenger (BBM) service to users of Android and iPhone devices.
The long-awaited cross-platform offering, which was delayed after issues arose following the initial launch last month, is now being rolled out in a phased manner.
"To help manage this unprecedented pent-up demand for BBM, we are implementing a simple line-up system to ensure a smooth rollout," Andrew Bocking, who heads the BlackBerry's BBM business, said in a blog post on the company's website.

BlackBerry said last week that 6 million Android and iPhone customers had pre-registered for the launch.
The company said those that had already signed up for the service at BBM.com are being allowed to use the platform right away, while others will be signed on as fast as possible.
---