BookMyShow's revenues up 36% in Q2; HomeShop18 grows 65%, cuts losses sharply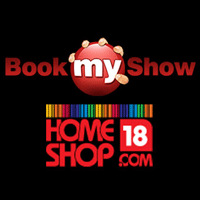 Network18 Media & Investments' digital content and e-commerce business reported revenues of Rs 124.8 crore for Q2 FY14, up 27 per cent over the year-ago period and an increase of 16.74 per cent compared with Rs 106.9 crore for the three months ended June 30, 2013.
But the real surprise was a sharp improvement in operating margins with an EBITDA loss of Rs 9.3 crore against Rs 37.7 crore in Q2 FY13 and Rs 43.5 crore in the first quarter of the current financial year.
The company's digital content and e-commerce business includes a string of news sites and digital commerce properties BookMyShow.com and HomeShop18. The firm divested its entire stake in NewsWire18 last year and the wire service is no more a part of Network18.
However, even after factoring out NewsWire18 the digital content business saw less than spectacular performance. Revenues were flat at Rs 20.4 crore compared to the same period last year and declined 6 per cent over the previous quarter ended June 30.
This was made up by the digital commerce arms. Movie and event ticketing venture BookMyShow recorded a 36 per cent growth in revenues in the second quarter while HomeShop18, the television and e-commerce venture, grew 65 per cent over the year-ago period. The firm did not give separate revenue split for the two units.
The year-on-year growth rate for both the units was, however, modest compared with the first quarter when BookMyShow grew 45 per cent while HomeShop18 revenue more than tripled.
BookMyShow has been profitable for a while, which implies the TV and online shopping unit has vastly improved its margins.
HomeShop18 also raised $14 million (Rs 87 crore) follow-on funding round with existing investors GS Home Shopping (GS), funds managed by OCP Asia Ltd (OCP Asia) and Network18. The transaction valued HomeShop18 at $360 million (Rs 2,230 crore).
This came six months after the firm raised $30 million (Rs 163 crore back then) from OCP Asia and Network18. OCP Asia and Network18 put in $15 million each. That transaction valued HomeShop18 at $330 million (Rs 1,790 crore). 
Parent
Network18 Media & Investments' consolidated revenue for the quarter stood at Rs 669.8 crore, up 27 per cent over the corresponding quarter last year. Its net loss for the quarter was Rs 39.8 crore, up 77 per cent during the period, partly due to exceptional items, including pay out of one-time severance costs and write-offs of Rs 23.4 crore incurred on account of a restructuring programme.
Raghav Bahl, managing director, Network18 said, "During the current quarter, our television operations turned in strong operating profits. We demonstrated the significant value built in our digital commerce operations which have also cut their losses substantially."
B Saikumar, Group CEO, said, "During the current quarter, we embarked on an operational restructuring programme to realise synergies across the group which will be instrumental in creating sustained value. Our entertainment business turned in an excellent quarter and IndiaCast continued on its growth trajectory. The advertising environment continues to be lackadaisical especially for news and other niche genres but we remain confident of delivering a strong year ahead."
(Edited by Joby Puthuparampil Johnson)
Comment(s)