Mumbai-based startup Nest Childcare Services Pvt Ltd, which owns and operates the Babyoye.com, an e-commerce site for new parents has launched a new content microsite called Babyoye Engage. The microsite is focused on helping parents and parents-to-be in all aspects of childcare, which includes giving them valuable information on topics ranging from health to fitness, nutrition to fashion, and development to schooling.
The site is divided in a number of sections that include pregnancy, childbirth, newborns, toddlers, preschoolers, child, tween/teen, and parents. Each section offers useful information (including tips, discussions, articles, etc.) under a range of topics depending on the section. For example, the childbirth section offers information on topics like delivery, your life after childbirth, and breastfeeding. Each section showcases a number of featured articles and users can also register (by enter their child's details like name, date of birth and gender) in order to get relevant articles delivered to them.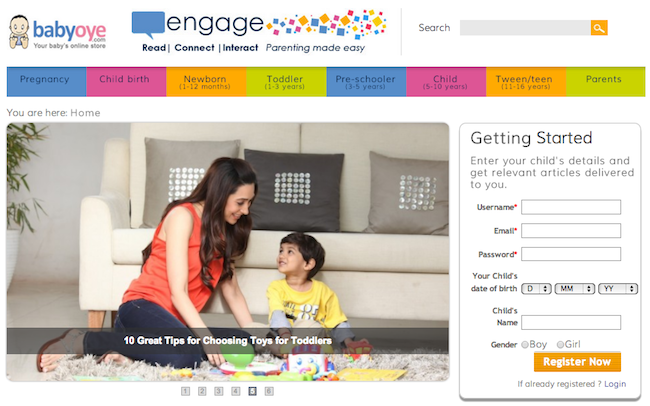 The site also features a number of informational videos by the company's partners and other experts. In addition, it offers a pregnancy guide, a child milestone guide and a delivery due date calculator.
As of August this year, the company claimed to have reached monthly gross merchandise value (GMV) of Rs 5.85 crore ($0.95 million). Sanjay Nadkarni, founder and CEO, Babyoye, had mentioned at the time that the e-tailer was doing around 1,500 orders a day with the average order value being Rs 1,300.
Earlier this year, Babyoye acquired Hoopos.com, another e-commerce site operating in the same space, in an all-stock deal. The combined venture also raised $12 million in a fresh round led by early stage venture capital firm Helion Venture Partners, with participation from Accel Partners and Tiger Global.
Amazon.in's Children corner
In related news, Amazon.in, the marketplace launched in India by Amazon Seller Services Pvt Ltd, part of the world's largest e-commerce firm Amazon.com, also added a Children's corner to its site. The new section offers products for children between 0-11 years of age, and will enable customers to view all children related products at one place.
According to the company, the section offers over 3.5 lakh products, including a selection of books, toys and games, movies & TV shows, baby products, watches, fashion jewellery, home furnishing, as well as Android apps for children. The baby store alone offers products across a wide range of categories including nursing & feeding, nursery furniture, diapering & nappy changing, baby care, baby & toddler toys, prams & strollers, car seats and accessories. The brands offered include Chicco, Hauck, Huggies, Medela, Nuby, Pampers, Pigeon, MeeMee, Johnson's Baby, Mamy Poko Pants, among others.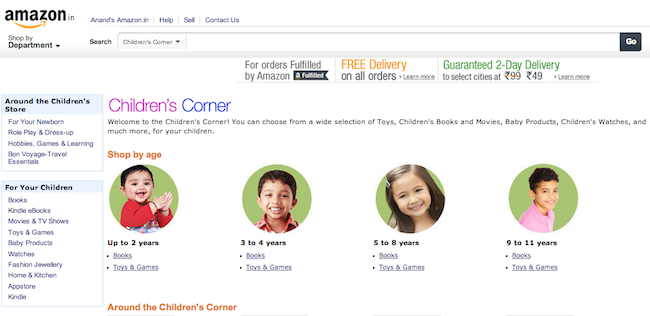 Users can browse kids' favourite characters like Spider-Man, Superman, Chhota Bheem, Barbie, Angry Birds, etc., or shop by age across categories such as books and toys. You can also create wish lists for your children and find products from over 80 brands such as Fisher-Price, Barbie, Funskool, Hot Wheels, Disney, among others. Note that all these products were already available on the site, and have simply been compiled to be displayed in one section.
In this category, Amazon competes with niche players like Firstcry.com, Hushbabies.com, Babyoye.com, Kidsoye.com, and Hoopos.com that are all focused on baby products, as well as Flipkart.com, which has also added baby care products to its site. Kicked off earlier this year with just two categories – books and movies & TV shows, the marketplace added toys & baby products, and personal care appliances to its offerings in September 2013.
---