Mumbai, Bangalore bag most angel group deals, says study

Mumbai gets the highest number of angel group deals followed closely by India's Silicon Valley, Bangalore, says a study by Silicon Valley Bank and Angel Resource Institute.
The study, which looks at data from 2005-2012, Mumbai got 25.3 per cent of angel group deals while Bangalore got 24.1 per cent. This was
followed by Delhi-National Capital Region with 13.4 per cent, Chennai accounting for 12.6 per cent and Pune 11.5 per cent. The data represents a total of 96 reported deals and Rs 177.4 crore in total rounds including co-investors.

In terms of sectors, infotech & services accounted for 22.6 per cent of angel group deals followed by 18.3 per cent to online services. This was followed by mobile/VAS, education and e-commerce (see graphic). The quantum of investments also follows a similar trend.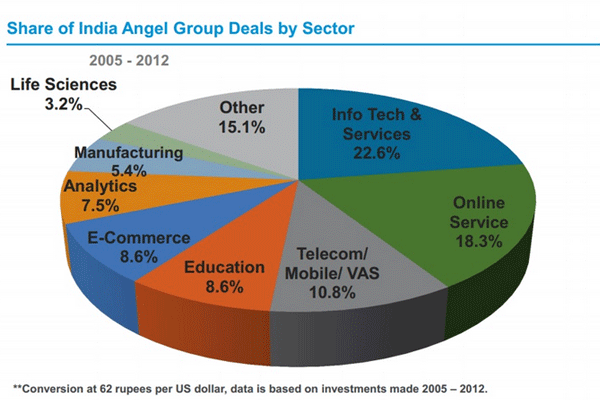 Another interesting finding of the study was that 95 per cent of the Indian angel group investments are new deals, compared with 56 per cent in the US. This reflects the maturity of market in the US even while angels in India search for new opportunities.

The median angel round size in India is Rs 1.52 crore, less than 50 per cent the size of median round of Rs 3.72 crore in the US. The mean angel round size in India is Rs 1.75 crore.
The median investment size per angel group in India was Rs 1.1 crore compared with Rs 0.74 crore in the US. The mean investment per angel group is Rs 1.51 crore in India.
The median pre-money valuation at early stage stood at Rs 10 crore, compared with Rs 15.5 crore the US. The mean early stage pre-money valuation is Rs 9.5 crore.

(Edited by Joby Puthuparampil Johnson)
---