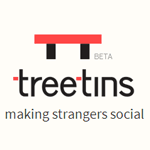 Owned and operated by Mumbai- based Treetins Internet Pvt Ltd, Treetins, a social network that lets users meet like-minded people outside their existing social circles over expressions and topics of interest, is eyeing the 1.5 billion social media user-base around the globe.
The site builds ideas to promote positive interactions between strangers. The startup was launched in August this year by Prince Jacob Thomas, who was later joined by his friends Aditya Dhull, Mohit Narwal, and Chandy Thomas. Prince, Dhull and Narwal hold MBA degrees in marketing, while Thomas is a PG Diploma in PR and Corporate Communications. An advertising professional, Prince was working at Ogilvy & Creativeland Asia, prior to setting up Treetins. Dhull had earlier worked at Creativeland Asia, while Narwal worked with Dun & Bradstreet and One97 Communications. Thomas worked with NDTV and Perfect Relations.
"Treetins is an anagram of the word 'interest'. We believe that human interactions, even if unexpected, always lead to something good. Although social media is meant to connect people instantly, more than a billion people using it have their connections restricted just to family, friends and colleagues. We simply want to do our bit to spread the culture of making strangers social," said Prince.
How it works?
Any user who logs on to Treetins.com joins anonymously as a stranger. They will start bumping into strangers only if they 'express' on a particular topic of interest or converse with those who have already expressed. Their identity is revealed only if their thoughts on a topic are on the same wavelength with that of another user.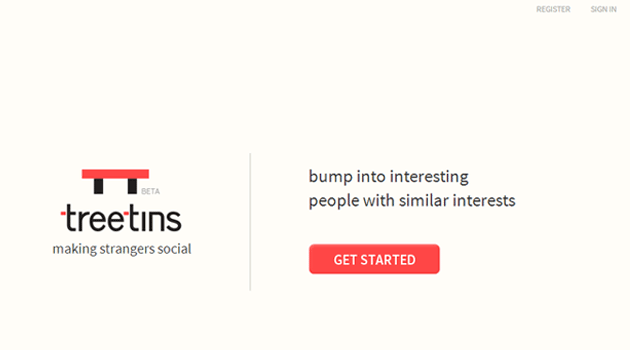 For example, recently, a 23-year-old college girl logged in to Treetins and wrote a short opinion piece on the recent Supreme Court verdict on gay marriages. She had four ways to express her thoughts – text, text with a picture, text with a video or text with link (to another site). She chose to put a picture along with her opinion and the moment she posted the article, it went into the Treetins world as a post by a stranger.
Now if there is a person who found what she wrote interesting and wants to connect with her, he/she will have to click on the tab that says 'converse' and type their opinion/comment about that article. The comment then goes to the writer as an expression from a stranger. Finally, she will get to know who has replied to her post and vice versa only if she chooses to accept the opinion.
"All of this is done keeping in mind that people should not connect based on their identity, but on opinions over common interests. Once the girl accepts the opinion and connects with the stranger, he/she gets added to the bench (list of strangers connected with)," said Prince. "Each person's bench is private, which means that you could bump into any number of people on the same article, but still have personal conversations with each of them."
There are many other platforms that enable people to meet strangers. However, Treetins is the first stranger-friendly networking site as it eliminates the creep factor and the fear of being judged, says Prince. While the company is not looking at generating revenues as of now, a model is in the pipeline. However, the first priority is to create a good user base.
While the website is the primary medium of getting people to interact with strangers, the startup has simultaneously made efforts in building this culture in the real world as well. "Our initiative 'Making Strangers Social' kick-started with the 'Share Your Table' idea, an offline activity set up in partnership with restaurants, cafés and pubs around Mumbai. The initiative gives people a chance to share their tables with complete strangers. With more than 30 restaurants actively participating, we are looking to expand it to other cities as well," Prince noted.
The company, however, faces some challenges. "Being a new concept and something that people may not take to instantly, we need to build awareness among people to understand the opportunities in meeting someone new. As of now, we are focusing on the product and learning from how people are adapting to it. A bootstrapped company, the firm is not looking to raise funds for now.
(Edited by Joby Puthuparampil Johnson)
---