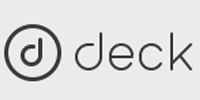 Bangalore-based Deck App Technologies Pvt Ltd, which offers a presentation design app by the same name, has received $600,000 in seed funding from Qualcomm Ventures and angel investors including Sabeer Bhatia, founder of Hotmail.com and Amit Gupta, co-founder of InMobi. The cloud-based app is available on mobile platforms like iOS and Android, as well as on the web.
The company plans to invest the funds for developing a suite of mobile applications, and hiring talent. "We plan to use the money to expand our engineering and design teams to build out our portfolio of post-PC productivity apps," said Sumanth Raghavendra, co-founder, Deck.
Karthee Madasamy, senior director of Qualcomm Ventures, mentioned, "The transition from PCs to smartphones is opening up a significant opportunity for new, innovative startups to define a mobile-first user experience. As mobile devices continue to change the way people interact with the world around them, we will work with the Deck team in creating design-led software and productivity solutions."
Launched in mid-2012 by Raghavendra and Ravi Kasturi, Deck enables normal people (those who are not designers) create beautiful presentations. Deck is the second venture of the founder duo, who had previously started InstaColl, an online Suite of desktop productivity applications. A winner of the Qualcomm Ventures' QPrize competition, Deck had earlier received $100,000 in prize money from Qualcomm Ventures, which it has already invested.
"Presentation apps have been around for over 30 years but even today, your presentations are judged primarily by your design skills rather than on your content," said Raghavendra. "While the world has advanced by leaps and bounds, presentation software has not kept pace. You are still expected to take a million decisions involving formatting, design, colors - things that have little to do with the most important thing in your presentation - your story. Deck makes it simple for everyone to effortlessly create a beautiful presentation on any device."
In terms of competition, Hungary-based Prezi is a dominant player in the online presentation design space. The company claims to have a user base of over 30 million and 96 million presentations, and has raised over $15.5 million till date from investors like Accel Partners, and Sunstone Capital, among others.
(Edited by Joby Puthuparampil Johnson)
---