The Year That Was: What made news in e-commerce in 2013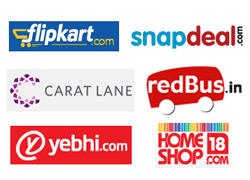 It was certainly a happening year for the e-commerce sector. While we saw blockbuster buyout of VC-backed venture redBus and the big daddy of Indian e-com Flipkart scooping a large chunk of money, we also saw the country's oldest player Indiaplaza as good as shutting down as did several newbies in the business due to lack of funds. Amazon entered the marketplace and some big names fell such as ShopClues' co-founder Sandeep Aggarwal, who was found guilty of insider trading in a previous job in the US.
As the year draws to an end, we bring to you to the highlights of the year 2013 for the e-commerce sector.
The casualties

A string of ecommerce startups shut down due to multiple reasons like staggering customer acquisition costs, cut throat competition and lack of fresh capital. While some of the newer players like Koolkart, Rock.in and MiraiStore caved in due to lack of funds, Delhi-based electronics e-tailer Timtara shut shop amidst controversy after the co-founder was arrested for allegedly cheating over 200 shoppers by taking payment and not delivering products.
In another case, the online toystore Wopshop shut down but the founders continued their entrepreneurial journey with another venture Pokkt. Another babycare focused etailer Hushbabies was shut by investors and top management who also asked the founder husband-wife duo to move out. The investors wanted to focus on the company's other non e-com business venture Babybox. In another consolidation in the baby product vertical, Babyoye acquired Hoopos and later shut it down.
One of the most talked about shutdowns was Flipkart pulling the plug on its one-year old online digital music store Flyte citing infrastructure issues like micro-payments and piracy.

Two ventures which seemed to be in no-man's land include the oldest player in Indian ecom sector- Indiaplaza and Seventymm, which had previously pivoted from trying to become India's Netlix to an e-store. Indiaplaza's site is live but almost all of the products are out of stock and the venture is rumoured to have shut down for several months now. Seventymm also seems to be in the same situation but last we checked it had some products ready for shipment. Either ways, both these ventures seem to have  missed the bus with the market for horizontal ecommerce consolidating among the top firms. Both Indiaplaza and Seventymm counted Kalaari Capital (formerly IndoUS Venture Partners) as an investor.
Some other e-tailers who shut down in 2013 were Times Internet's NRI-focused Hutk.com, handicraft e-tailer Apruv.com, and more.
High tide

While the number of private investment deals (angel, PE/VC) in e-commerce space shrunk almost a third from 74 transactions in 2012 to 51 this year, the aggregate value of investment shot up, thanks to few big boys. Total PE/VC investments in the sector is pegged at $567 million this year.
Even if we factor out Flipkart's big deal, the overall quantum of money flowing into ecom rose to a new high in 2013.
In effect, this represents fewer players getting funded but those who did get funded, got much bigger cheques, reflecting maturity coming to the sector.

Case in point is our homegrown e-com giant Flipkart, which became the most heavily funded e-commerce company after it raised $360 million in its fifth round of funding in two tranches. It roped in some new investors, including Belgium-based Sofina, US-based Morgan Stanley Investment Management, Dragoneer Investment Group and Vulcan Capital (founded by Microsoft co-founder Paul Allen), besides attracting participation from existing investor Tiger Global, Naspers, Accel and Iconiq Capital. Flipkart was valued at a phenomal $1.6 billion in this latest round of funding.
Snapdeal was not very far behind scooping around $50 million from a group of investors including eBay and is reportedly on its way to raise between $150-200 million in a fresh round which could also see it bringing in SoftBank, a Japan-based telecommunications, internet and media conglomerate, as an investor.
Amon g other prominent funding transactions, HomeShop18 raised $44 million across two tranches from existing investors GS Home Shopping, OCP Asia and Network18. The transaction valued HomeShop18 at $360 million.

Other players who scooped up significant cash include jewellery etailer Caratlane (raised $15 million) and Yebhi (raised a $12 million bridge round from existing investors).
Another highlight of the year was the redBus deal, which marked a blockbuster exit for its VC investors in a sector starved of real success stories for investors. South African media conglomerate Naspers bought a majority stake in the online bus ticketing company for around $100 million.
However, in a year when the sector witnessed the biggest ever M&A and the bulge bracket investment, another development probably went on to create a bigger ripple as the world's largest etailer Amazon finally made inroads to India with local marketplace Amazon.in. This has set the sector on the right plank for even bigger moves next year as the fight for drawing consumers online becomes tougher, meaner but eventually more rewarding.

---