Mobango, an independent app store owned by Mauj Mobile, part of the People Group, claims to have had around 95 million game downloads globally in 2013, an increase of about 19 per cent from 80 million downloads in 2012.
This was primarily led by India accounting for around half of the total game downloads. India was the single-largest contributor with over 45 million downloads, representing an 80 per cent growth from 25 million downloads in the previous year (2012). This implies game downloads outside India declined from 55 million in 2012 to 50 million last year.
A free store, Mobango's offerings include apps, games and video for the Android and Java platforms. In total, the company claimed to have seen nearly 260 million downloads of apps, games and videos. Among these, gaming was the fast growing segment and it accounted for around 37 per cent of total downloads in 2013.
Mauj Mobile, a mobile content and applications company from the People Group stable, which includes a number of businesses such as online matrimonial service Shaadi.com and real-estate portal Makaan.com, had acquired Mobango back in 2010.
Here's some highlights of the year gone by as shared by the firm.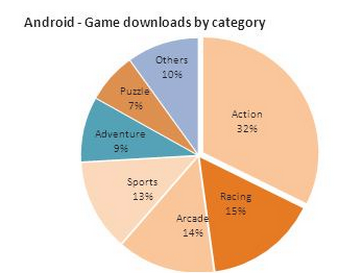 Android rules, literally
The year 2013 saw a sharp increase of over 56 per cent in the number of Android downloads, primarily due to users shifting from feature phones to Android powered smart phones. The strong uptake in Android phones also led to an increase in Android games published by developers such as Indiagames/Disney, Herocraft, GP Imports, Digital Chocolate, Deemedya, Reliance Games, etc.
In total, games uploaded by both existing and new developers exceeded 15,000 new titles in 2013. A significant trend was that a majority of these games (80 per cent) uploaded were Android, with the rest being Java games. However, Java downloads continued to account for a significant portion—about 65 per cent of all downloads—owing to the still large penetration of existing Java handsets. As Android shipments are set to increase dramatically in 2014, the ratio of Java downloads will reduce.
Samsung top handset brand
The top handset brands by visits for Android were Samsung, followed by homegrown manufacturer Micromax, Sony Ericsson and HTC. While for the Java platform, Nokia continues to remain the top brand with models like Nokia C and Asha series. Medium screen sized Android devices have the largest share of traffic as of now, though this is changing rapidly to larger screen devices.
In-app ads primary revenue model
Developers relied predominantly on in-app advertising as the primary revenue model on most of the games. Nearly 85 per cent of all titles have in-app advertisement, powered by various ad networks like Google, Vserv, and Inneractive, etc. While the rest depend on in-app purchases using mobile operator billing or Google Play billing.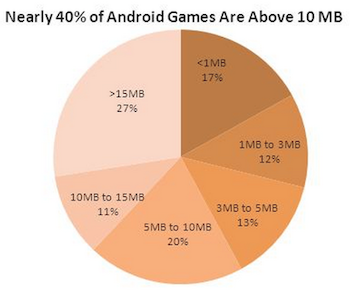 Action games most downloaded
The app store currently offers games in 11 categories, of which action games were the top downloaded games with a 32 per cent share of total Android gaming category, followed by racing and arcade. However, for a majority of the mobile games, engagement continues to be poor (with racing category having the highest engagement). On an average, games are played between 4 and 10 times before the user moves on to another game.
This is possibly due to the fact that many games use notifications-based marketing for monetisation. Hence, instead of using notifications to encourage users to play the games more, the games are used as an advertising channel for other apps or offers, prompting users to uninstall the games in order to avoid ads.
What's in store
Games are expected to continue to have the largest share of downloads, facilitated by the twin trends of growing 3G penetration and increasing smartphone shipments in the country. A large proportion of these shipments are expected to be at or below the Rs 10,000 price point, while the audience is going to consist of young users between 18 and 30 years of age.
The Java platform as proportion of downloads will significantly decline with Android moving to over 50-55 per cent of all game downloads. For monetisation, developers are expected to experiment with more trial versions of games using operator or Google billing options.
(Edited by Joby Puthuparampil Johnson)
---