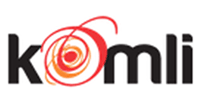 Digital advertising technology platform Komli Media India Pvt Ltd has launched a remarketing demand-side platform (RDSP), which enables digital advertisers and e-commerce players to convert their site visitors into customers. RDSP is an integrated platform to manage remarketing across display, mobile, and social, and clients can either self-manage their campaigns using the platform or leverage Komli's expertise to run the campaign.
How it works?
For instance, a user expresses his/her interest in buying a product through Myntra.com but does not make a transaction. Komli RDSP monitors this and when the customer visits any social site next time, the ad of this particular product pops up alongside his/her profile. This increases the company's chance to convert the visitor into a customer.
"Our USP is that clients can run their own campaign and form different strategies in a transparent manner without having to worry about the ROI. Also, we don't charge the clients per transaction, instead we charge a per cent of their media spend," said Ashwin Puri, VP-remarketing, Komli Media.
The firm has already bagged 20 clients across e-commerce, travel and finance sectors that include Bangalore-based lifestyle apparel e-tailer Myntra and two clients in Singapore. It is now planning to launch the product across Southeast Asia within the next two months.
According to Puri, Komli works with over 75 per cent of the top advertisers in APAC, which gives it an opportunity to understand the emerging trends in the market. "We are seeing remarketing spends for most performance advertisers increasing rapidly and it will soon be one of the largest channels for digital performance advertising."
Komli is a digital media-focused technology platform that offers solutions across display, mobile, video, social, search and data for advertisers, agencies and publishers. Its offerings include a real-time-bidding (RTB) performance advertising platform called ATOM that integrates audience data to improve return on investments. Headquartered in Mumbai, the company has more than 400 employees across 18 offices in India, Australia, New Zealand, Southeast Asia, the Middle East, Hong Kong and North America.
In October last year, the firm raised $30 million in its Series E funding led by Peepul Capital with participation from existing investors Norwest Venture Partners, Nexus Venture Partners, Helion Venture Partners and Draper Fisher Jurvetson. Recently, Komli's CEO Prashant Mehta had stepped down from his role, and currently co-founder Amar Goel holds the CEO's role.
(Edited by Joby Puthuparampil Johnson)
---