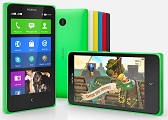 After being unveiled last month at the Mobile World Congress (MWC) 2014, Nokia X, the first smartphone from Finnish-handset manufacturer Nokia running on Google Inc.'s Android operating system is all set to hit the Indian smartphone market later this month. While the company is yet to announce an official date for its launch in the country, The Mobile Store mentions that it will be available starting March 15, 2014.
Note that at the time of its unveiling, Nokia had mentioned that it will start the roll-out of the device in India, Asia-Pacific, Europe, Latin America, the Middle East and Africa immediately. Also, while the company had priced the smartphone at 89 Euros (Rs 7,588), it is listed on the e-commerce store for Rs 8,500.
Here is a quick look at the specifications of the device.
Nokia X sports a 4 inch IPS LCD capacitive touchscreen display (800×480 pixel resolution) with 233ppi pixel density and run on a 1GHz dual core 8225 Qualcomm Snapdragon processor. It has 568MB of RAM and its 4GB internal storage can be expanded up to 32GB with a microSD card.
The smartphone has a 3 megapixel fixed focus camera that can also record videos but no front facing camera. On the connectivity front, the device has Bluetooth 3.0, Wi-Fi, dual-SIM capability, as well as a microSD card slot and a microUSB port. The dimensions of the device are 115.5mm x 63mm x 10.4mm and its weight is 128.7 gm. Nokia has provided a 1,500 mAh battery in the device which it claims will provide up to 13.3 hours of talk time and 17 days of standby time.
In the price range (and the 4 inch screen size) it is being offered, the smartphone will compete with the likes of Samsung Galaxy S Duos 2 S7582 (Rs 8,979), XOLO Q800 X-Edition (Rs 9,048), LG Optimus L5 II Dual E455 (Rs 9,399), Sony Xperia E Dual (Rs 8,499), and Huawei Ascend Y300 (Rs 8,498), among others.
Interestingly, for Rs 8,500, you can also get your hands on the Lumia 520 (also from Nokia), raising questions as to why would the company pit Nokia X against one of its own.
In addition to Nokia X, the company had also unveiled two additional devices including Nokia X+ and Nokia XL. According to the company, the roll out of Nokia X+ and Nokia XL will start in Q2, 2014 and they will be priced at 99 Euros (Rs 8,441) and 109 Euros (Rs 9,294), respectively. All three smartphones run on a forked version of the Android OS that will come with both Nokia and Microsoft apps and services as well. Read here for detailed specifications of all three devices.
For those who don't already know, Microsoft had acquired Nokia's mobile handset business for $7.2 billion in September 2013. This makes the development even more interesting, since till now, all Nokia smartphones were running on Microsoft's competing Windows operating system.
---