Indian tech startups enter Unicorn Club with billion dollar valuation; many more in queue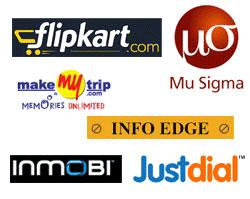 2013 was a year of reckoning for the Indian startup ecosystem, especially in terms of validation of many business models by global peers. While South Africa's Naspers acquired redBus to enter online bus ticketing market, US-based Endurance International Group bought out parts of Mumbai-based Directi in top dollar deals and at the fag end of the year social networking giant Facebook acquired Bangalore based Little Eye Labs, a company building performance analysis and monitoring tools.
Directi, known for its domain name registration business, remained a self-funded venture but the other two deals marked high-profile exits for their venture capital investors.
But, for every entrepreneur who pressed on the sell button there are many others who have been scaling up their business with venture capital backing. Being in the private fold their valuation is not out in the open, but a deep dive into a pool of fast-growing ventures in the country reveals several have become member of the so called Unicorn Club. This club includes companies which have achieved valuation of over $1 billion in less than 10 years of being founded, a feat fairly rare even in Silicon Valley.

"Not only have some companies crossed the billion dollar valuation mark, indicators are that several of them will continue to get significantly bigger in the coming years. It's good not only for the VCs and entrepreneurs but also great for management teams which start to see some real value from their sweat equity," said Subrata Mitra of Accel Partners India, which has backed two firms who are part of the club.
Indian members of the Unicorn Club include - Flipkart, Inmobi and Mu Sigma. Investors also count companies like Just Dial, Info Edge and MakeMyTrip in this league even as some were founded more than a decade ago or are just shy off the benchmark, as the internet market took off only over the last decade for these companies.
Several venture capital firms also have multiple entries on the list—Tiger Global (3), SAIF Partners (2), Sequoia Capital India (2), Accel Partners (2), KPCB (2) and Sherpalo Ventures (2).

Most of the Unicorn companies have entered the club over last 12-24 months. While Info Edge was listed in 2006 and hit the $1 billion valuation mark one year later riding along the bull run in the stock market, it had slipped thereafter. It re-entered the Unicorn Club recently as its share price has doubled over last six month. MakeMyTrip also entered the club on its NASDAQ IPO in 2010 after which its valuation fell, only to come up again in last few months. It's just short of the $1 billion mark as per the last traded price.
Just Dial has clearly emerged the leader of the pack with its spectacular listing last year as its share price has jumped three times the IPO issue price. The company is currently valued at Rs 12,192.34, which would peg it around $2 billion.

InMobi was valued at $800-900 million in 2011 when it raised $200 million from Softbank Corp. During the funding round its revenue run rate was around $100 million, now it's crossed $500 million and on track to reach $1 billion.
Flipkart entered the club in August 2012 when South Africa's Naspers invested in the company and last year was valued $1.6 billion. Big Data firm Mu Sigma is said to have hit the $1 billion valuation in the recent round of private funding.
Could this list possibly surge? VCs surely believe it will.

There are already many in the $100 million+ valuation range and several are doing well and getting there, according to Mitra of Accel Partners. "So, we're quite hopeful. Sectors can be quite wide: from internet to mobility to SaaS to healthcare, etc," he adds.
Some companies, which have already been valued at over $150-200 million include e-commerce players like Snapdeal, Myntra and HomeShop18; classifieds players like BharatMatrimony, Quikr and Zomato besides SMS GupShup, PubMatic, Komli, Druva, One97 Communications, among others.
Investors say many more companies may enter the coveted club as they look at liquidity events like an initial public offering or a strategic sale in the coming years as financing rounds may not be the best indicators.

"While I don't think financing valuations should be a precursor to what the final exit valuation will be, it is an indication that a company has demonstrated traction and attracted investor confidence," said Suvir Sujan of Nexus Venture Partners. Nexus is an investor in firms like Snapdeal, PubMatic, Komli, and Druva, among others.
But some like Bharati Jacob of Seedfund caution that these companies should be able to deliver real value to all stakeholders in time. "I hope all of them continue to grow in valuations and have some exits for their founders, investors, employees and it is not just paper money," she said.
What will differentiate the new Unicorn companies is that a lot of them will be serving the Indian market, as against being technology services outsourcers like Infosys or HCL Technologies.

Also, growth of the current crop of startups has been much quicker due to factors like faster internet adoption and spread of smartphones.
"In India, we're seeing healthy trends of internet penetration, large connected (smart) phone base, heavy usage of Facebook and WhatsApp, etc., which are all leading indicators that more and more action would move online. Several of the Indian companies are going to take advantage of this trend to grow more rapidly," said Accel's Mitra.
For companies like Info Edge, which runs Naukri.com, and Just Dial, it took nearly two decades to reach the benchmark. But companies like Mu Sigma (founded 2004), Flipkart (founded 2007) and InMobi (founded 2007) the journey has been much quicker.
Also, for instance, Snapdeal, which was started in 2010, is also said to be flirting with $1 billion benchmark in its latest round of funding led by eBay.
This could also be due to changes in the entrepreneurial ecosystem. "India is seeing smarter, more aggressive entrepreneurs starting companies than ever before. There are entrepreneurs who have returned from overseas 5-10 years ago, worked for Indian captives doing cutting edge work and now want to start companies. They understand local and global markets. And there are also young bright professionals/ex-students who are also opting to start companies instead of taking secure jobs," notes Sujan of Nexus.
But what separates some of these companies from their competitors?
According to Mitra, whose firm has backed both Flipkart and Mu Sigma, some of these factors are strong management teams (including founding teams); relatively simple business model, that is amenable to scale; great execution and ability to attract external rounds often.
(Edited by Joby Puthuparampil Johnson)
---