GetitBazaar partners with 99labels to launch 'Deal Guru' for product deals; needs to offer a lot more

Getit Infomedia's managed marketplace to enable small and medium businesses to sell their products online getitBazaar has joined hands with 99labels.com, an online private sales portal, to launch a new service called Deal Guru.
Launched as a new microsite dealguru.getitbazaar.com, the service collects product deals across categories from SMEs and brands across the country so buyers can find a large variety of deals to choose from in one place. The company is also promoting these deals on its portal, as well as distributing them through its partners including telecom vas services, media partners and its own 'Ask Me' call center on 0 4444 4444 44.
Getit Infomedia offers services across print, online and voice media and is present in more than 35 cities in India. It is backed by Malaysia's Astro (as a strategic investor) besides VC investor Helion Venture Partners, and had earlier acquired Infomedia Yellow Pages and AskMe from Network18 group. It also added a new monetisation channel with the launch of its online managed marketplace getitBazaar.
In Dec 2013, Getit Infomedia's international arm Getit Transnational (P) Ltd had launched local search and classifieds services in Malaysia. This service had been launched in partnership with a native player MaxisBerhad (Maxis), a Malaysian integrated communications service provider, and is being marketed under the brand name 'Findit-Malaysia'. This was the company's debut in the international circuit.
What's it about?
Note that Deal Guru is focused only on product deals and does not carry deals on services, which are restricted only to the same city. The company will also manage the complete transaction processing including pick up, delivery, payment collection and settlement into the sellers account.
Last we checked, deals are being offered across categories like electronics, fashion, toys, cosmetics, lifestyle products, kitchen appliances, sports, and fitness equipment, etc. Users can also call and find deals that they are looking for on the Ask Me service.
Kiran Murthi, CEO, getitBazaar, said, "We are happy to have 99labels as the partner for deal guru as they have deep expertise in the deals business. We hope to use their expertise to be able to help our sellers expand their customer base across India."
"getitBazaar has a lot of experience in servicing SME's across India and this deal site is a promising initiative towards helping SME's sell their product while customers get great products at amazing prices," added Ishita Swarup, co-founder and CEO, 99labels.
Users can filter the deals according to the product categories, discounts as well as price range. While the costliest product for which a deal was available on the site was a Bluetooth headset (priced at Rs 4,599), the heaviest discount was on a net and georgette Saree. We feel that the number of products as well as the quality of deals offered on the site need to increase / improve drastically before it can command serious customer attention.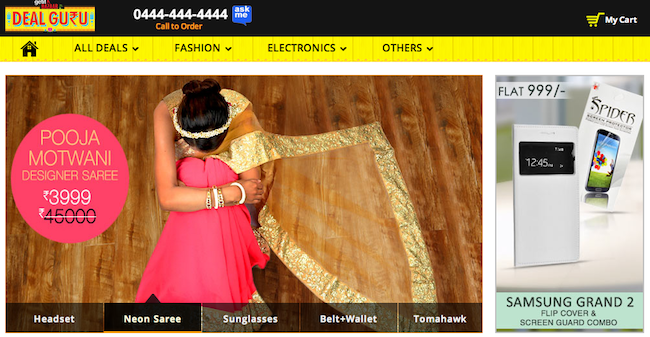 In March 2013, Info Edge (India) Pvt Ltd, which runs a string of consumer internet properties and has been investing in other tech startups in India, had disclosed that it wrote off its entire investment of around Rs 29.3 crore ($5.4 million at the time) in Ninety Nine Labels Pvt Ltd, the company that owns and operates 99labels.com.
At the time, Info Edge co-founder and vice chairman Sanjeev Bikhchandani had said, "We did not write off the investment in a hurry. 99labels had been trying to raise fresh round of funding for over 15 months. During this period we have put in two rounds of bridge investments totalling Rs 10 crore. While it has had promising conversations with several investors, they ultimately did not end up in investments."
Comment(s)