Amazon.in, the marketplace launched in India by Amazon Seller Services Pvt Ltd (part of Amazon.com), has started offering a 'pickup service' in the country. For those who don't already know, the new service will allow you to have your orders delivered at pickup stores located at some convenient locations. Once a product is delivered to any of these locations, you can collect the same from there.
This is ideal for customers who do not have a fixed address wherein they can get their products delivered, or have no one at home to collect the product when it arrives. To begin with, the company is offering the service only in two cities- Mumbai and Delhi. To select a particular pickup location, users can search for them via their address, pin code or nearest landmark.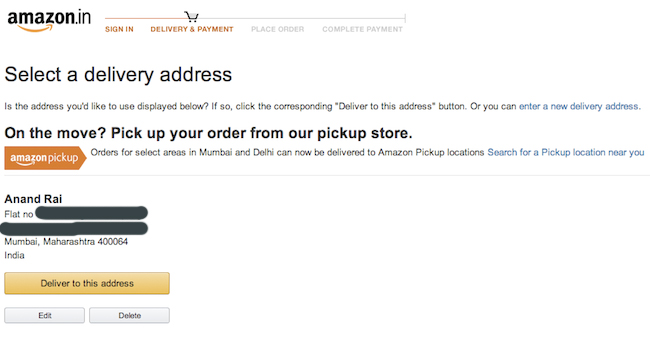 Note that the option of selecting 'Amazon pickup' only comes once you select a product, proceed to checkout (after signing-in to your account), and reach the 'delivery and payments' page on Amazon.in. To power the service, the company has partnered with Bharat Petroleum Corporation Limited (BPCL), and will use its stores present at petrol pumps as pickup locations.
"We are running a pilot in Delhi and Mumbai with BPCL to ascertain the benefits and mechanics of enabling a pickup service. It is too early to comment any further. Depending on results, we will take a call on how and what we want to roll out and we will make further announcement on this at an appropriate time," an Amazon India spokesperson told Techcircle.in.
Amazon.in was kicked off in June 2013 with just two categories—books and movies & TV shows. However, as a marketplace, the site does not sell products directly to the consumers, instead functions as a technology platform connecting sellers (claims to have over 1,400 sellers listed on its site) with buyers.
As of now, the site offers over nine million books and 1.7 million eBooks, and over 1.4 lakh products. These are offered in 12 categories, including books & e-books, movies & TV shows, the Kindle family of e-readers & tablets, mobile & tablets, computers & accessories, camera & photography, audio & video, beauty & health, toys & baby products, fashion jewellery, watches, and home & kitchen.
In addition to Amazon.in, the company runs a price comparison site called Junglee.com, which it had launched in February 2012.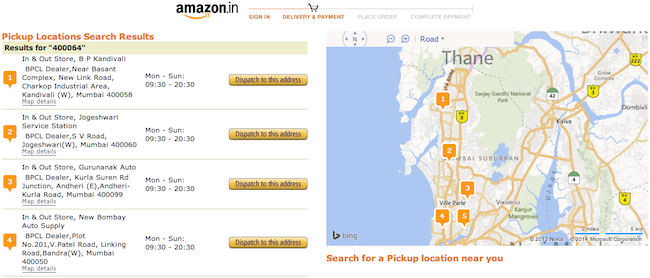 Amazon.in's delivery / fulfilment timeline
Nov 2013: Amazon.in starts offering its in-house logistics services, for order fulfilment for retailers running other e-commerce sites, akin to what Rocket Internet-backed Jabong implemented last year by handling third-party logistics for others through JaVAS, a short form for Jabong Value-Added Services.
Dec 2013: In an attempt to further increase its presentation in the country, the company piloted cash on delivery (CoD) with India Post. In the same month, the company also rolled out premium shipping services in the country whereby customers will get guaranteed delivery of their items for a fee. However, the guaranteed delivery options are available only for items fulfilled by Amazon.
Jan 2014: The company opened its second fulfilment centre in Bangalore, two years after launching its first fulfillment centre in Mumbai. The new centre is spread across 150,000 square feet, and offers both inbound and outbound services.
Feb 2014: Last month, the company revealed its plans to use its own logistics service to handle the delivery of all products that its vendors sell through its e-commerce marketplace Amazon.in in India. This would be a strategic move, which would entail skipping the traditional model of shipping products by e-com firms, which rely either fully or partly on third-party logistics service providers for delivery.
---