Intel takes 'significant' stake in Big Data startup Cloudera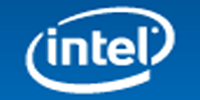 Intel Corp said on Thursday it made a significant investment in Cloudera and will make the fast-growing startup its preferred distributor of software for crunching Big Data.
The top chipmaker said its equity investment in Cloudera makes it the company's single largest strategic shareholder and it comes as Intel looks to expand its server business to make up for falling sales of personal computers.
Intel said the stake in Cloudera is its largest data center technology investment ever, although it did not disclose the size of the deal.

Cloudera, like rivals HortonWorks and Pivotal, focuses on helping corporate customers manage data through "Hadoop," an open-source software system that can sort and handle the massive amounts of information, increasingly called Big Data, generated through the Internet and mobile devices.
Intel said it will promote Cloudera's Hadoop platform and transition away from its own customized version that it had been promoting as optimal for Intel server chips.
Cloudera will now engineer its Hadoop offerings to work best with Intel's server chip technology, which enjoys around 94 per cent market share in data centers.

Intel will have a seat on the board of directors of Cloudera, which is widely expected to go public this year.
Shares of Intel were unchanged at $25.38.
Intel hopes that encouraging more companies to leap into Big Data analysis will lead to higher sales of its high-end Xeon server processors.

With Intel's core market of personal computers shrinking, the chipmaker's server business is becoming a larger component of the company's profits. But its growth has recently fallen short of expectations.
Big Data is also a key part of the Internet of Things, a term referring to the increasing connectivity of everyday devices from cars to smoke alarms.
Finding ways to analyze and make use of vast amounts of data collected by those smart devices is becoming a major opportunity for IT companies including Intel.

After falling behind in making chips for smartphones and tablets, Intel aims to make sure it is a major player in the Internet of Things by supplying processors used in new devices as well as the server hardware and software used to analyze the data those devices create.
"Hadoop, as the data platform, and the investment we are making together to make sure it's the platform of choice, becomes the connection between those two major initiatives at Intel: the Internet of Things and the data center," Diane Bryant, senior vice president and general manager of Intel's Data Center Group, said on a webcast.
Intel's investment comes after Cloudera said last week raised $160 million from T Rowe Price, Google Ventures and other investors.

---