Rocket Internet-incubated lifestyle e-tailer Jabong.com clocked 1.95 million gross orders in the first quarter of the calendar year with tier II and III cities representing almost two thirds of the total, according to a disclosure by Swedish investor Kinnevik, an investor in Rocket Internet as well as Jabong.
It also stated that while apparel and accessories market represented just 20 per cent of the $2 billion e-com market in India in 2012 it would grow over 15x to become 38 per cent of the total by 2017 when the e-com market is projected to grow to $16 billion.
"Tier 2 and tier 3 cities are being underserved by traditional retail and e-tailers are poised to tap the pent up demand in these cities," the report said adding that among the various categories, women's apparel dominates the sales followed by men's footwear and accessories (see chart).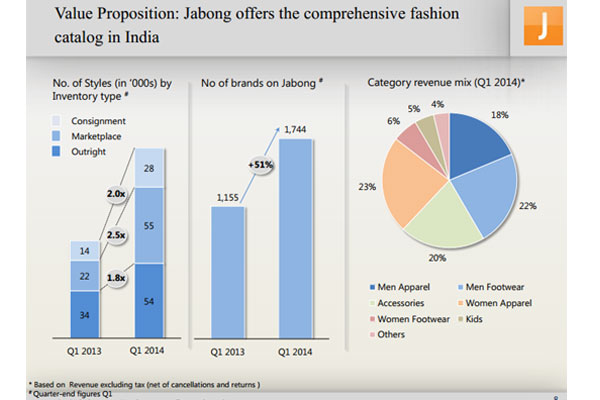 The most interesting aspect is the swift growth of inventory under the marketplace model, where Jabong just provides a platform for other vendors to sell through its site.
As reported  first by Techcircle.in, Jabong had launched a managed marketplace last year. The marketplace accounted for around 31 per cent of the inventory in Q1 of 2013 which pushed up to 40 per cent last quarter, the fastest growing category for the firm. Kinnevik did not disclose the revenue or order mix from the marketplace.
The number of brands on the site also shot up significantly over the past one year. At the end of the Q1 it had 1,744 brands on its site.
The portal received 78.4 million unique visitors in Q1 of 2014 more than doubling from the year-ago period. The total customer base almost tripled to 2.88 million in the same period.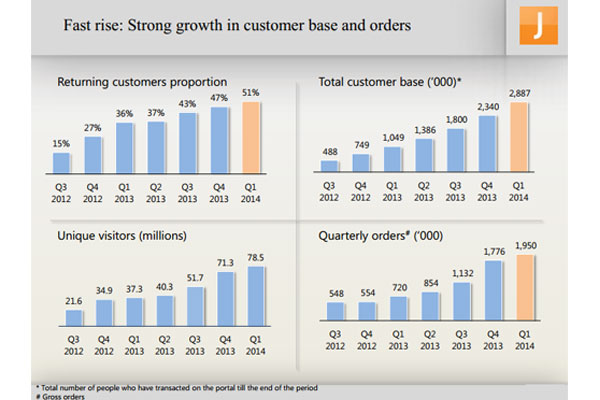 Over half of the customers are repeat purchasers on the site. The firm clocked total 1.95 million gross orders last quarter as against 720,000 orders in Q1 of 2013.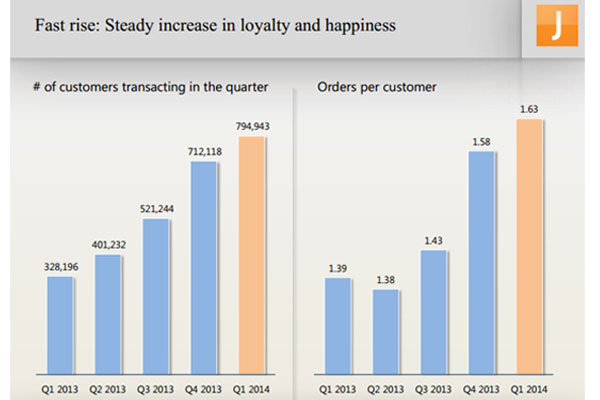 The firm claimed 0.79 million customers transacted on the site last quarter as against 0.32 million in Q1 of 2013 and 0.71 million in Q4 for 2013. Meanwhile, order per customer which had dipped in Q2 of 2013 has been on a secular rise since then and rose to 1.63 in the three months ended March 31, 2014.
Jabong had total warehouse capacity of 215,000 sq ft with delivery service to over 12,000 pincodes across. The firm now reaches 630+ cities in the country.
It competes with Myntra among many other fashion related e-tailers. Myntra has just been acquired by Flipkart. Amazon also recently entered the fashion space.
---