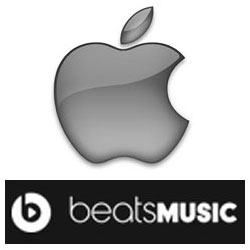 Technology giant Apple Inc is acquiring subscription-based streaming music service Beats Music, and Beats Electronics, which makes the popular Beats headphones, speakers and audio software, for a total of $3 billion comprising upfront payment of $2.6 billion and approximately $400 million that will vest over time, according to a company statement.
As part of the acquisition, Beats co-founders Jimmy Iovine and Dr Dre will join Apple.
Subject to regulatory approvals, Apple expects the transaction to close in fiscal Q4.
"The addition of Beats will make our music lineup even better, from free streaming with iTunes Radio to a world-class subscription service in Beats, and of course buying music from the iTunes Store as customers have loved to do for years," said Eddy Cue, Apple's senior vice president of Internet Software and Services.
"We have kept investing in music and are bringing together these extraordinary teams so we can continue to create the most innovative music products and services in the world," added Tim Cook, Apple's CEO.
Iovine has been at the forefront of innovation in the music industry for decades, and he has been an instrumental partner for Apple and iTunes for more than a decade. He has produced or collaborated with some of the most successful artists in the iTunes Store, helping make it the world's number one music retailer. Iovine and Dr Dre are sound pioneers, artists and entrepreneurs.
"The idea when we started the company was inspired by Apple's unmatched ability to marry culture and technology," said Iovine.
Beats has quickly become part of pop culture in the US and with the acquisition the Beats product lineup will be offered in many more countries through the Apple Online Store, Apple's retail stores and select Apple Authorized Resellers.
Formally established in 2008, Beats Electronics (Beats) comprises the Beats by Dr Dre family of premium consumer headphones, earphones and speakers as well as patented Beats Audio software technology and streaming music subscription service Beats Music.
Beats Music is a subscription streaming music service that focuses on providing a personalized music experience for each user.
Apple which changed the way people listened to digital music with its iPods and iTunes online store, has also reinvented the mobile phone with its iPhone and App Store, and is now seeking to mark a  strong presence in the future of mobile media and computing devices with iPad.
---