India had third largest smartphone base with 117M users in 2013; to grow 45% in 2014: Mary Meeker Report

India ranks third among the top countries for smartphone users with an estimated 117 million subscribers, behind only China and the US. But the penetration of smartphones as a percentage of mobile users in India is pegged at just 10 per cent, the lowest among the top 30 smartphone markets, according to the latest 'Internet trends 2014' report by Mary Meeker, partner at the venture capital firm Kleiner Perkins Caufield & Byers (KPCB).
However, the fact that the smartphone penetration in the lowest in the country also means there is a lot of room for growth going forward. The growth of smartphone subscribers in India in 2013 stood at 55 per cent, which was the fastest among the top 30 smartphone markets in the world. According to the report, the smartphone subscribers' base in the county is estimated to grow at 45 per cent in 2014. The veteran venture capitalist used data from Informa for drawing her inference.
The total number of smartphone subscribers across the globe is 1.78 billion, with China leading the pack with 422 million smartphone subs, followed by the US with 188 million. While this is an impressive number, it is just 30 per cent of the global cell phone market, which is over 5.2 billion.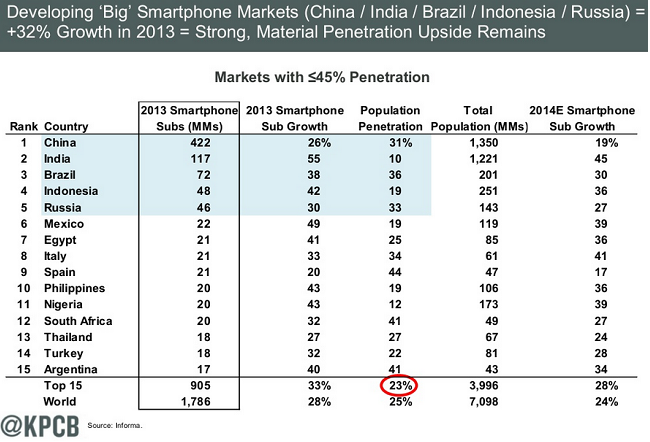 Growing mobile traffic
The global mobile traffic is growing rapidly and it already accounts for 25 per cent or one fourth of the total internet traffic. The mobile traffic as percentage of global internet traffic has been growing at over 1.5x per year and it is likely to maintain its trajectory or accelerate even further going forward.

Global internet users
As of now, there are over 2.6 billion internet users worldwide, a number that has grown nine per cent in 2013 in comparison to 11 per cent in the year before that. While the growth remains solid, it is slowing. US leads the pack in terms of the country with the maximum internet penetration, which stood at 83 per cent of its total population, or 263 million internet users.
However, in terms of the total number of internet users, China is still king with 618 million users, followed by the US and India.

India witnessed a 27 per cent growth (the highest in the world along with Philippines) in the number of internet users in the country in 2013, which stood at 154 million users, although the internet penetration in the country remains in the lower two digits (13 per cent to be exact).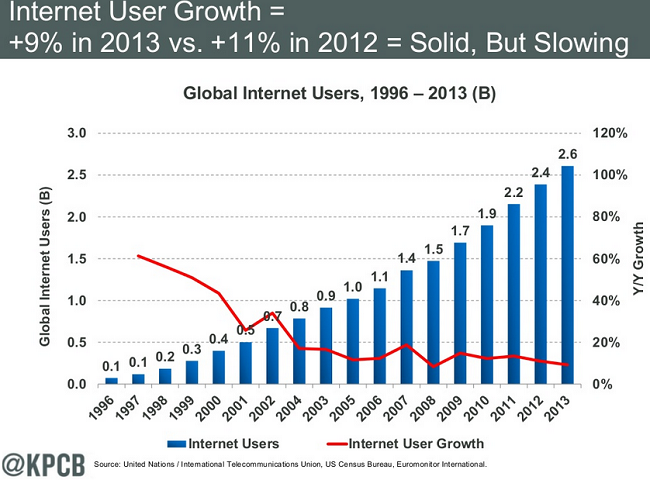 Other interesting facts
Total number of internet users is growing at 10 per cent year-on-year, with the fastest growth in developing markets like India, Indonesia and Nigeria.

Total number of smartphone subscribers is growing at over 20 per cent, with the fastest growth in underpenetrated markets like China, India, Brazil and Indonesia.
With over 52 per cent growth in 2013, tablet units are growing faster than PCs ever did. The total tablet penetration stands at only eight per cent with 439 million units.
Android is the most popular smartphone operating system in the world with over 75 per cent market share, followed by iOS and Windows Phone OS.

Internet advertising is still growing, but mobile is where the big opportunity lies. However, mobile app revenues still trump mobile ad revenues.
Even if we are in a bubble, it is not as bad as the one back in 2000.
Images and video sharing is rising rapidly. Over 1.8 billion photos are being uploaded and shared on a daily basis via platforms like Snapchat, Facebook, WhatsApp, Flickr and Instagram.

Instant messaging apps like WhatsApp, WeChat and Line have witnessed exponential growth, showing users preference of having frequent interactions with smaller groups of close contacts, in comparison to broadcasting messages to large audiences.
Rise of China: In 2013, nine of the ten biggest internet properties in the world in terms of total traffic were US-based companies. As of now, this number has gone down to six, with the addition of China's Baidu, Alibaba and Sohu that have joined Tencent on the list.
---