Cleartrip expands its hotels product with the launch of Weekend Getaways service, what's on offer?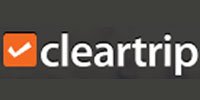 Cleartrip Travel Services Pvt Ltd, which runs the online travel booking site Cleartrip.com, has launched a 'Weekend Getaways' service. An extension of its hotel product, the service is designed to take the stress and friction out of weekend travel.
To make use of the service, users simply need to select the city they will be travelling from, the number of travellers/rooms required, and the check-in and check-out dates. The most popular origin cities are listed upfront for your convenience, which include Bangalore, Mumbai, New Delhi, Chennai, Kolkata, Chandigarh, Hyderabad, Pune and Kochi.
The results page provides a listing of hotels spread across various nearby destinations within a 10 hour drive time from the origin city. You can also modify the drive time between 2-10 hours depending on your convenience. If you are looking for a specific destination, the 'destination' filter will help narrow the choices.
Users can also filter the results depending on the price of the trip, experience offered, property type, savings, as well as its TripAdvisor rating. In addition, the theme-based filter allows you to narrow your search based on what you want to do. So you could choose to get in touch with some wildlife on the next long weekend, instead of driving down to the beach.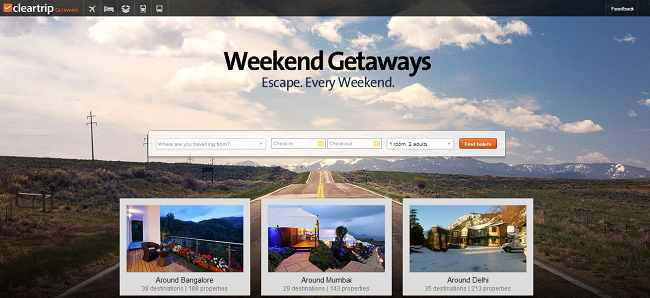 Last we checked the service was providing over 300 getaways including 38 destinations around Bangalore, 29 destinations around Mumbai, 35 destinations around Delhi, 22 destinations around Chennai, 7 destinations around Kolkata and 24 destinations around Hyderabad, among others.
As of now, the service is available only for Indian cities.
Mumbai-headquartered Cleartrip is one of the top online travel firms in India, alongside Makemytrip.com, Yatra.com, and Goibibo.com. Back in 2011, Concur had invested $40 million for a minority stake in the company. Other investors in the company include DAG Ventures, and Draper Fisher Jurvetson.
In May this year, Sherpalo Ventures, the venture capital firm launched by Google board member Kavitark Ram Shriram, had exited Cleartrip. The investor had sold its entire stake in the company to Concur Technologies, a NASDAQ-listed travel and expense management solutions provider and key investor in Cleartrip.
Comment(s)