Startups bag mentorship from YourNest, 91 Spring Board @ Techcircle Startup 2014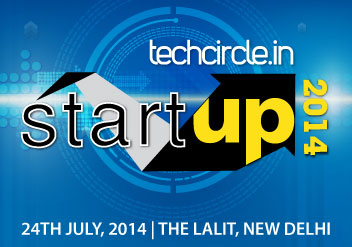 Dozens of promising startups, enthusiastic investors and tech experts came under one roof to participate in the mega event of the Indian startup sector- Techcircle Startup 2014 in Delhi on Thursday.
The event started off with a session on dynamics of early stage fund raising. Manigh Singhal, founder and CEO, LetsVenture; Saurabh Aggarwal, CEO, Octro; Amir Jariwala, co-founder & director, Karma Recycling; and Tanuj Mendiratta, co-founder & CEO, Appiterate sat on the panel, which was moderated by Rahul Khanna, MD, Canaan Partners India.
Sharing his experience Mendiratta said that scaling up a quality focused service is a tricky issue and becomes very difficult at times. Talking about raising funding he also added that all institutional investors are process oriented, compared to angel investors.

Rahul Khanna on the other hand said that it was important that startups were prepared for a due diligence cycle, because investors need to rest assured if they are investing in the right project.
The panellists were also asked some interesting questions such as how to research about an investor? Should one blindly pitch to all VCs? And what is the difference between raising money for a tech startup vs. a traditional business?
Aggarwal talked about choosing the right investor for a venture. According to him only getting an investor is not enough, having the right investor who understands the project is also very essential.

The panel was followed up with a keynote talk by Ashutosh Garg, CMD, Guardian Lifecare on lessons in starting up. Garg called entrepreneurship to be a lonely journey in which the biggest challenge was to motivate oneself. He also said that there was a huge difference between self-employment and entrepreneurship and one should never confuse between the two.
The event also had a session on startup valuations through various funding rounds. Panellist Sunil Goyal, who is the founder and CEO of YourNest Capital Advisor, said that entrepreneurs should understand the term sheet well themselves.
The day also witnessed presentations from eight promising entrepreneurs as part of Techcircle Showcase. They were from varied fields ranging from healthcare, hospitality and media. The jury for the session consisted of Anand Vemuri, co-founder 91springboard and Girish Shivani, executive director and fund manager, YourNest Angel Fund.

Two of them, Find My Stay and Ad Push Up also bagged up mentorship one each from YourNest and 91Spring Board.
While Find My Stay is a reverse auctioning hotel booking platform that allows customers to book hotels at the price they wish to pay, Ad Push Up is an ad optimisation tool that can help portals make money from their existing website traffic using advanced automated A/B testing without the need for any programming knowledge.
The event also had other interactive sessions on issues such as getting the go-to-market strategy right, niche players in the e-commerce segment and key drivers, opportunity for edu-tech startups.

---