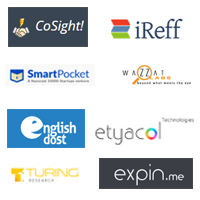 Google Inc., which is planning to mentor 25 startups in India under its six-day programme called Launchpad, will focus more on mentoring rather than funding- unlike its US and UK accelerators- as per a Mint report citing Sunil Rao, country head of the startup ecosystem at Google India.
"The programme will include assisting startups to get the right kind of connections, strategic course corrections, re-evaluating the user experience and design, as well as guidance in technology. They will also get $20,000 worth of cloud credit to buy cloud services," said Rao.
"There are about 25 mentors, half of which are Google employees from India, Israel and California, while the rest are successful entrepreneurs and large investors," he added.
Here's a look at the 10 startups selected so far:
Cosight.io: It provides sales managers a real time view of their sales deals and automates data entry for the sales force by detecting text patterns in their emails.
IReff Technologies: The firm helps prepaid mobile users find the ideal recharge product by searching for the best offering for them.
Findulum Techlabs: Its flagship product Smartpocket can convert a mobile device into a singular channel for all card transactions, managing all your loyalty cards on the smartphone.
AdWyze: An online marketing agency, it has developed in-house tools and capabilities to use analytics to improve the returns on online campaigns across finance and education sectors.
Wazzat Labs: A mobile-enabled image processing, computer vision and graphics solutions firm, its flagship product Wazzat Mobile Vision SDK can be trained to recognise real world objects ranging from printed materials to places and buildings.
Bluehat Education: An online learning firm, it uses personalisation and gamification to aid user motivation.
Etyacol Technologies: The company has developed mobile applications across areas like location-based tracking and customer profiling. Among its products, CashKumar provides a personalised foreign exchange platform, with access to reputed money changers for the best exchange rates.
TheRightDoctors: A cloud solutions firm in the e-medical space, it digitises the engagement between doctors and patients. It also helps patients find doctors for their medical condition and enables them to take second opinions from experts. Their proprietary algorithms also analyse patient data and flags early warning signs.
Turing Research Labs: A technology research firm working on the social web and mobile space, its latest project Frilp assists a user to find recommendations on trusted businesses, shops & services from their friends and connections.
Expin.me: It has created a story builder application that provides solutions to bloggers, marketers, teams and companies to write and tell their stories online.
---