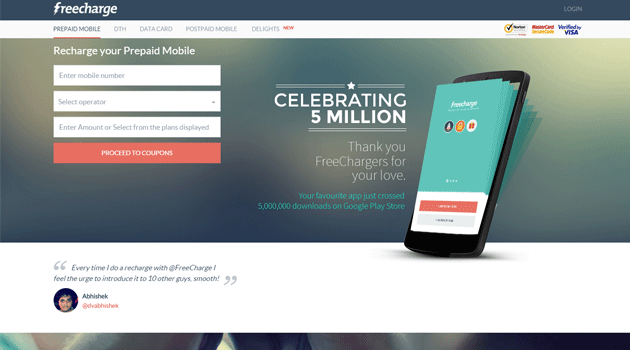 Mumbai-based Accelyst Solutions Pvt Ltd, the four-year-old firm which runs online mobile and DTH recharge business under FreeCharge brand, is one of a few top-tier players in its space which has stuck to its core business. Unlike Paytm, which has added a mobile wallet and a marketplace for goods and MobiKwik, which has parallelly positioned itself as a mobile wallet, FreeCharge continues to bet on the recharge business.
However, it has been amid several strategic moves including acqui-hires, big funding and top level lateral hirings as it seeks to become the master of what it does, not just in India but outside as well.
"Pivoting is done when you are not able to run a business well. We are confident about the business that we offer and there is no reason for us to pivot," Alok Goel, CEO of FreeCharge told Techcircle.in.
Goel said the company is looking at a million transactions per day by March 2015 and 10 million in around three years.
He did not divulge the current transaction numbers but claimed it has 13 million registered users and almost 80 per cent of FreeCharge's transactions came from mobile platforms.
Indeed, the firm's mobile push is also complemented by its recent milestone of crossing 6 million downloads across app platforms, including over 5 million downloads on Android itself. It grew 8x in the last 12 months alone.
"Currently almost 80 million recharge happen everyday with most of them being done online; 30 per cent of this number is expected to get recharges done online in the next two to three years," he said talking about the opportunity.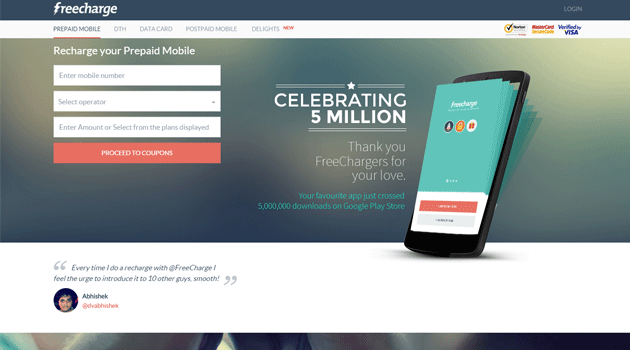 Coupling it with the average size of the recharges online pegged at Rs 120, double that of the offline market, the scope to scale up is enormous, according to Goel.
FreeCharge provides pre-paid mobile and DTH service recharging services to consumers. It also has an associated couponing business where a transaction by consumers on its partners' websites allows them to redeem recharge value on FreeCharge.
Neither of these is unique. While there are several peers in online mobile recharge business, some like Paytm also have a similar, though not the same, couponing add-on.
But the firm has been recharging itself to play the long haul in the business.
Hires, acqui-hires
As a key part of this, it is beefing up the management team, not just through plain vanilla mode but through key lateral hires and even acqui-hires. Early this year it acquire-hired a stealth mode startup Preburn, which provided an offline app store for user acquisition wherein apps were distributed through mobile retail stores. It also brought in the team of India Quotient-backed social wish-list startup Wishberg. While those startups folded up, that team is now working to build new referral programmes of FreeCharge.
It recently hired InMobi's Sharat Khurana as chief financial officer and Ninad Takpere of TimesDeal as chief business development officer. That's not all. "We are going to hire a known industry face as our chief technology officer very soon," said Goel without disclosing the name of the person.
Money & new frontiers
The company, which had raised Rs 20 crore from Sequoia Capital in January 2012, snagged up a huge round which was five times bigger in September 2014. It pulled in $33 million in its Series B round from existing investor Sequoia Capital, with participation from Belgium-based investment company Sofina, besides Russian VC firm ru-Net.
The funds are being used to build the recently unveiled transactional advertising platform Delights, which is akin to a cross promotional couponing business. It is now also charting plans for overseas expansion and has set its eyes on other emerging markets.
While India itself is a huge opportunity, by tapping on to a bigger plate, it would be looking to further enhance its reach.
What do others say?
Vijay Shekhar Sharma, co-founder and chief of One97 Communications, which runs Paytm, doesn't agree that just recharge can fetch a company good margins: "Selling recharges is inherently a low margin business. Everyone will have to find something else to justify cost of customer acquisition."
He said Paytm has a mobile wallet and other-third party merchants selling goods on its platform to make the most of customer lifetime value and is confident that it will build a great long-term profitable business by capturing larger customer value of its user base.
(Edited by Joby Puthuparampil Johnson)
---