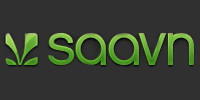 Saavn (South Asian Audio Video Network), a US-based Indian digital music service, has added a Twitter-powered online radio station that enables its users to send song requests via a tweet to the @SaavnRadio account.
The development was first reported by TechCrunch.
"The radio feature already accounts for over half of all activity on the service and a large number of users are already active on Twitter," said Rishi Malhotra, co-founder and CEO, Saavn.
The line up of songs is updated by Saavn users' shared listening activity on Twitter and priority is given to explicit requests for songs. Twitter already has a platform for other dedicated music players including SoundCloud.
While Saavn's services are available worldwide, India accounts for 70 per cent of its total user base. The company claims of having 10 million app downloads on Android.
Recently, Saavn entered into licensing agreements with Warner Music and EMI Music that helped it add 800,000 tracks from international artists. This took Saavn's total number of tracks to two million and the service now covers all major labels in the US, including Sony and Universal.
Last year, Saavn had inked an exclusive partnership with London-headquartered Shazam Entertainment Ltd, a global media engagement company offering music/media apps and enabling users to discover, explore, buy and share music, TV shows and more.
---