Google Chromecast TV dongle for media streaming launched in India for Rs 2,999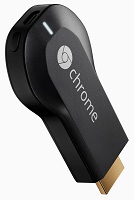 After one and a half years of its US launch, Google has finally launched Chromecast in India. The device enables you to stream media from a number of devices on to the largest screen in your homes "the TV. One can simply plug it in to the HDMI port of the TV, post which he/she can use the smartphone, tablet or laptop to 'cast' (basically send) online content on to the TV screen via Wi-Fi.
The device was first unveiled in July last year.
Apart from browsing and viewing content on the TV screen, you can also use the smartphone/tablet/laptop as a remote for performing functions like play and pause, volume control and more. Users can also multitask, sending e-mail or surfing the web, while 'casting' content on to the TV screen. In addition, they can use the Chrome browser to project any browser tab on to the TV. This can be used for viewing pictures (from e-mail and sites like Facebook, etc.) or video clips from a news site.

"Whether it's 'Comedy Nights with Kapil' or movie trailers, Indian entertainment lovers will now be able to use Chromecast to bring their favourite content from a phone, tablet or laptop to the biggest screen in their homes. With more than 35 per cent of people accessing YouTube from mobile devices and a large proportion switching between two to three devices every day, Chromecast will help these users bridge the gap between their devices and their TV," wrote Vivek Jayaraman, product manager, Chromecast, Google.
The service also works across platforms, which means in addition to Android, it will also work with iPhones, iPads, Mac and Windows.
At the time of its US launch, we had mentioned that the best thing for Google in India would be to partner with players that offer India-focused content, as most of its US partners (Netflix, Pandora, etc.) didn't even have an Indian presence. The company has done exactly that. In India, Chromecast supports hundreds of apps including YouTube and Google Play Movies, as well as apps from partners like Spuul, YuppTV and Eros Now that offer Bollywood & regional movies, music, and TV shows on-demand.

The search giant had earlier also developed Google Cast, a technology that enables developers to build apps for Chromecast. According to Google, since launching in the US, more than 6,000 developers worldwide are actively developing more than 10,000 Google Cast apps across Android, iOS, and Chrome with the open SDK.
"We are looking forward to seeing a range of TV shows, movies, music and more from local content creators which will soon be available for Indian audiences," said Jayaraman.
The device has been priced at Rs 2,999 in India and it will be available for purchase on home grown e-commerce marketplace Snapdeal.com, as well as at select Airtel stores across India from December 10, 2014. As part of its launch, Airtel and Eros are also offering Chromecast customers a range of subscription and content bundling options.

Here is an introductory video of the device.
Competition

Apple also offers its media streaming device Apple TV in India, which is priced at Rs 8,295. But unlike Chromecast, Apple TV is a digital box that brings the iTunes store content to a user's television and also helps connect iDevices to the bigger display with the help of AirPlay.
Earlier this year, world's largest e-commerce firm Amazon Inc. had forayed into the home entertainment arena with the launch of a video and game streaming device called Fire TV for $99 (Rs 6,126). The company followed this up by bringing the same experience to a smaller device. Christened 'Fire TV Stick', the device offers instant access to movies, TV shows, music, photos, apps, and games.
According to Amazon, Fire TV Stick has 50 per cent more processing power and 2x the memory of Google's Chromecast, which only has single-band, single-antenna Wi-Fi. It further claims that the device has 6x the processing power, 2x the memory, and 32x the storage of Roku Streaming Stick, another competing product. Fire TV Stick is priced at $39 (Rs 2,413) in the US.

---