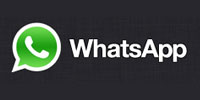 WhatsApp, the cross-platform instant messaging app, claims to have crossed the 700 million monthly active users (MAUs) mark globally. This is an increase of over 100 million users (or 16.7 per cent) from 600 million MAUs in August 2014. Jan Koum, the co-founder and CEO of WhatsApp, further claimed that the app's users are now sending over 30 billion messages on a daily basis.
In a post on social networking site Facebook, Koum wrote, "Today, WhatsApp has more than 700 million monthly active users. Additionally, every day our users now send over 30 billion messages. We promise to continue working hard to make WhatsApp even better."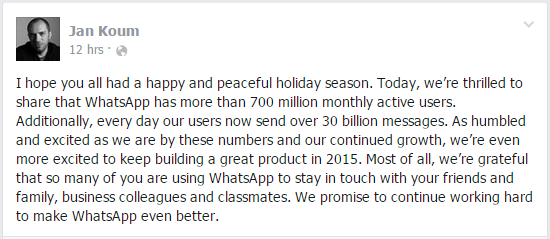 In November last year, WhatsApp had crossed the 70 million monthly active users mark in India. While the company has not disclosed its India specific numbers this time around, the country continues to remain one of the fastest growing markets for the app. It is now looking to cross the one billion active users mark by focusing on markets like India and Brazil.
WhatsApp had earlier announced that it would launch its voice calling service in the second quarter of 2014. However, it is still working on the same, and should launch the service in the coming months.
In Feb last year, social networking giant Facebook Inc. had announced that it will acquire WhatsApp for $19 billion in cash and stock deal. The company closed its acquisition of WhatsApp with a final price tag of about $22 billion- an increase of $3 billion- due to the increased value of Facebook's stock in recent months.
Competition in India
The app competes with the likes of Line, Hike and WeChat, among others. Hike, the instant messaging app from BSB (Bharti Softbank- the joint venture between Bharti Group and Japan's Softbank) claimed to have crossed the 20 million users mark in June 2014. At the time, close to 90 per cent of the app's users or 18 million users were from India.
In comparison, Japanese free call and messaging app Line claimed to have over 30 million registered users in India as of October 2014. And while this number is just over five per cent of the 560 million registered users the app has globally (in 230 countries), it makes India one of the largest markets for the company.
So basically WhatsApp has more than double the number of users of its closest competitor in the Indian market. Also worth noting is that the numbers disclosed by WhatsApp are monthly active users (which is what really matters in the case of such apps), while the ones offered by Hike and Line only represent the registered users.
---