When Sanna Vohra's friend was providing her details about her sister's upcoming wedding –from the trousseau to its location- she had to go through a number of websites, a couple of email threads, as well as a WhatsApp group. Perplexed by the entire experience, Sanna saw an opportunity to create a platform to search for, save, and share wedding ideas. This led to the creation of Indear.in.
Founded in November last year, the Mumbai-based startup is an image-based search engine that enables its users to search for anything- from palace wedding to 'gota patti' (a type of Indian embroidery that originated in Rajasthan) lehenga. While it is organised like Pinterest, Indear collects content directly from brands and allows users to contact the source directly. A double-major in Economics and Development Studies from Brown University, Sanna was previously working at Morgan Stanley in New York, US.
"Though there are some popular blogs and vendor review-based websites in the market, there is an opportunity to create a product that amalgamates the best content across Indian wedding industry verticals from décor to womenswear, invitations, jewellery and wedding gifts," said Sanna, who is currently focusing on the high end of the wedding industry.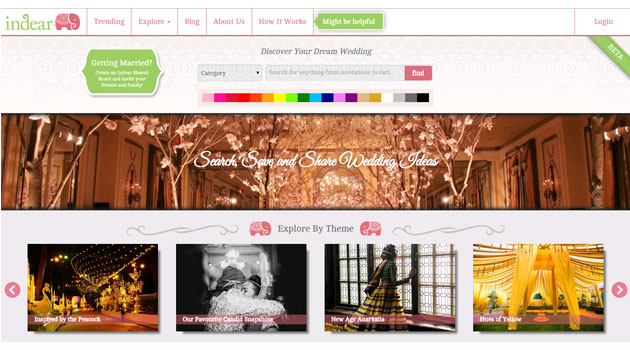 The firm has direct tie-ups with 150 brands like Taj, Shangri-la, Abu Jani, Sandeep Khosla, Amrapali, and Forest Essentials, among others.
How it works?
Users can search for something as specific as 'pink gota patti lehenga' or browse by categories that include womenswear, cakes & treats, jewellery, invitation, photography, decor venues, and make-up etc. The startup has also created a trending section for most loved and shared images by the community. The selected items can be saved onto a board (by clicking on the '+' button) that is like a scrapbook.
The platform also allows users to invite people (with the help of their email addresses) to see the board that they have created and get their inputs in the form of comments to make collective decisions. Users can also share the content on social media platforms like Facebook or Twitter.
Business model
While as of now the platform only connects users to the brands of the products they like, it is also working to enable them to shop directly on the site.
"The crux of our business model is not just to help users find what they like, but actually allow them to make purchases in categories that are conducive to buying online, like wedding gifts, wedding favours, jewellery (semi-precious and costume), and clothing," explained Sanna.
"We will soon be a curated marketplace for the Indian wedding industry, and all the products we sell will be offered from the same brands we source content from," she added.
According to Sanna, the company is currently in advanced talks to raise $500,000 in its pre-series A round of funding. The funds will be used to expand the user base as well as build the retail marketplace.
Expert take
Angel investor and mentor K Ganesh said, "High disposable income and changing lifestyles have impacted the wedding space like any other consumer space. Unlike other matured markets- where wedding budget is focused on just apparel- Indian scenario is far wide spread with additional spends on jewellery, food and celebrity events marking the 'D' day."
"However, we have not seen any credible website curating and presenting all the information needed by the wedding segment customer in an organised manner. With Indian HNI population growing at the fastest pace next only to Honk Kong, there is a real need for a company that taps into this wedding market for HNIs," he added.
Taking about some of the challenges that the company will face, Ganesh said, "The company will face challenges similar to any e-commerce site- user acquisition and retention. The gross margin in both per cent terms and absolute terms will be good as the ticket size per order is large, which is why the company can afford to spend money on acquisitions. The bigger challenge lies in constantly updating its widest repertoire of products and themes, and curating stock to appeal to different sets of customers."
"All aspects of the operations facing the customers should be of the highest quality- like on time delivery, personalised approach etc. Being a major event, involvement of many elderly people (like parents, aunts, and in-laws) who are not tech savvy will make it difficult for an online only player, but a hybrid model with touch and feel component can address this."
Another angel investor and mentor Ajeet Khurana finds adding a social layer to wedding planning and shopping an interesting idea. According to him, making it visually attractive (like Pinterest) is a great idea too.
"But the journey from Indear.in's present state, to making it a popular destination for wedding ideas and shopping is not going to be easy. Customers are spoiled for choice. The social sharing angle could turn out to be the secret sauce. But large-scale adoption is necessary to make that work. I think Indear.in will need close to a million dollars to run a sincere experiment to evaluate its business model," concluded Khurana.
---