Ahmedabad-based Infibeam Inc., the company behind the consumer e-commerce venture Infibeam.com and B2B e-commerce platform Build A Bazaar, has launched a logistics aggregation platform for online merchants. Called Shipdroid, the SaaS platform enables e-commerce merchants to integrate with a range of courier service providers in India, while maintaining uniformity of entire logistics and fulfilment process across all courier partners.
The platform offers a one stop shop of all logistics services from automatic allocation of courier to dispatch to last mile delivery of packages. Using Shipdroid, merchants can opt for surface, rail or air mode of delivery. Alternatively, they can also opt for express or regular delivery. According to the company, merchants will have access to over 20,000 pin codes across 600 cities in India.
It further claims that thousands of merchants have already signed-up to use Shipdroid logistics services. Merchant can choose from a number of cost-based service plans depending on their needs, budget and products being sold. Merchants can also choose from variety of delivery commitment service level agreements (SLAs) and mode of delivery.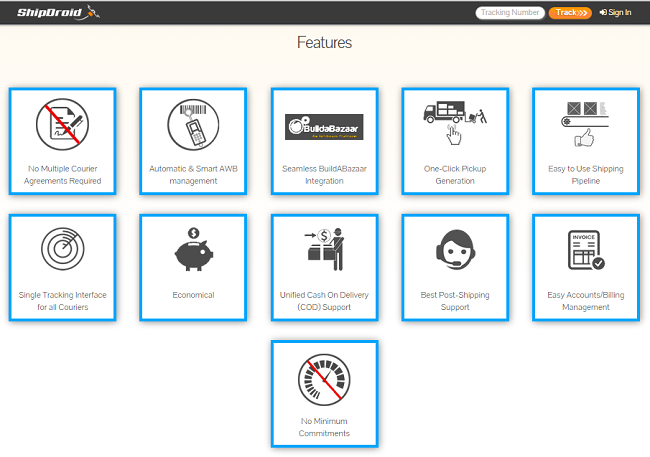 "Our technology and operations support will ensure that merchants find the platform convenient to use, increase delivery reach, save shipping cost per unit, and at the same time improve their customer experience with easy and fast online tracking," said Sachin Dalal, co-founder and head of logistics platform at Infibeam.
"In coming months, we plan to launch this platform to local sellers as well, who wish to do three hour delivery," he added.
The service is integrated with Build A Bazaar, Infibeam's enterprise platform that offers small, medium and large merchants a state-of-art commerce platform to start an online store under their own domain name. Merchants can enable 'Shipdroid Courier' setting on Build A Bazaar, post which they can print and paste shipping labels from a host of couriers. A pickup boy is then sent by the company to collect and dispatch the package. Merchants can also track the package via the Shipdroid site.
Infibeam was founded in 2007 and is owned and operated by Ahmedabad-based NSI Infinium Global Pvt Ltd. It offers more than 1.5 million products across 30 categories such as books, movies, music, mobiles, electronic gadgets & computer, apparel, jewellery and footwear, etc. In September last year, the Ahmedabad-based company had launched a new Generic Top Level Domain (GTLD) dot-triple-O (.OOO).
Competition
Other players that offer logistics services to SMBs in India include Indian e-commerce major Flipkart.com, which began delivering packages for other sellers by letting its in-house logistics arm eKart to provide services to other vendors in Feb last year.
In April 2014, Amazon had started enlisting kirana stores as delivery points in Bangalore. For the same, the company had identified and trained staff at small kiosks and stores, run by individual entrepreneurs, to be their shipment pick-up points.
Delhi-Based startup BigFoot Retail Solutions Pvt Ltd, which owns and operates KartRocket.com, had also opened up its shipping platform ShipRocket to all e-tailers back in Dec 2013.
---