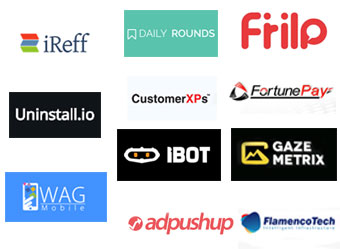 Microsoft Ventures India, which runs an India-focused early-stage startup accelerator programme, has launched two new accelerator programmes to help later stage startups. Called Accelerator Plus and Scale Up, the incubator has already shortlisted close to a dozen startups for the two programmes.
The current batch has five startups under Accelerator Plus (AdPushup, Frilp, iReff, DailyRounds and Uninstall.io) and six under Scale Up (iBot, FortunePay, CustomerXPs, UberLabs, FlamencoTech's and WAGmob). It also includes a few international startups three of which made it to the final list – Uninstall from Singapore and iBot and UberLabs from the US.
Commenting on the rationale for the new programmes, Ravi Narayan, managing director, Microsoft Ventures India, said, "There was little help available for later-stage startups in India. This concurred with similar observations made during the pilot of Accelerator Plus, where we noticed that the 10 later stage startups which went through the pilot programme benefited more from the mentoring and showed better results, faster."
"The angel and seed ecosystem has matured to help them get a good start. However, today, scaling up is the real challenge for an Indian entrepreneur. With these new programmes, we will see the mature startups propel themselves faster to the next orbit," Samir Kumar, managing director, Inventus (India) Advisors, said.
"Two-thirds of the applicants have been referred by VCs, angels and organisations like Nasscom and TiE," Ravi said.
Here is a sneak peek at the startups.
AdPushup - An ad revenue optimisation tool that can help publishers and bloggers make more money from their existing website traffic using advanced automated A/B testing without the need for any programming knowledge.
Frilp - It assists a user to find recommendations on trusted businesses, shops & services from their friends and connections. The firm's location analytics offer reviews & recommendations via social channels.
iReff - The firm helps prepaid mobile users find the ideal recharge product by searching for the best offering for them.
DailyRounds - A mobile app learning platform for doctors to review clinical patient case studies.
Uninstall.io - It empowers mobile app makers to understand the reasons for high uninstalls and thereby reduce the uninstall rate, optimise app marketing spends and enable efficient retargeting post the uninstall.
iBot - It is a technology company whose product suite enables machine-to-machine (M2M), human-to-machine (H2M) and machine-to-system (M2S) interactions.
FortunePay - It is a payments processor offering end-to-end e-payment services and platforms to banks and merchants.
CustomerXPs - It works in the space of real time intelligent customer experience and fraud prevention in the banking sector space.
FlamenoTech's - It has developed Digital Blanket which is an Internet of Everything and Everyone (IoEE) solution for smarter infrastructure. It provides real-time status and control of devices, information and people.
WAGmob - It offers better software for sales rep training, to teach prospecting, qualifying and closing skills.
UberLabs - It uses image recognition and machine learning technologies to identify image based risks and opportunities.
(Edited by Joby Puthuparampil Johnson)
---